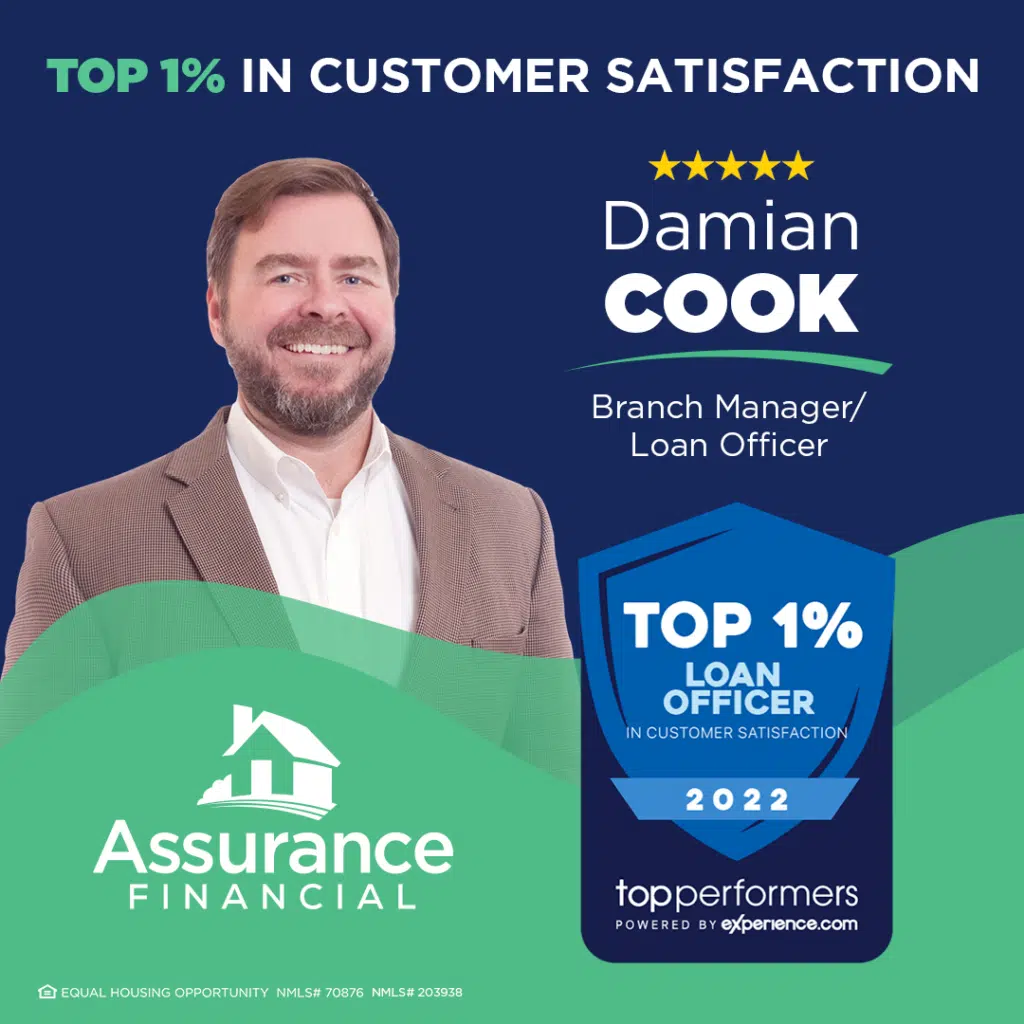 Damian Cook is a Branch Manager and Loan Officer in the Atlanta Branch of Assurance Financial. Recognized for outstanding service, Damian has helped more than 1200 clients become homeowners. Over 95% of borrowers who participated in a survey gave Assurance Financial the highest satisfaction rating. 100% of those rated Damian Cook's attention to detail and customer service excellence as their primary reasons for the high satisfaction rating.
About Damian:
Roots and Education: Damian is a native Georgian, having grown up in Roswell.  He embarked on his educational path at the University of Alabama, where he earned a BS in Business.  His pursuit of knowledge continued at Mercer University, culminating in an MBA in 2004.
Decades of experience:  With over 19 years' experience as a Mortgage Loan Officer, Damian has witnessed the ebb and flow of the industry.  His seasoned expertise guides clients through the complex world of mortgages.
Empowering Homeownership: Damian takes immense pride in helping over 1200 clients achieve their dream of owning a home.  His commitment to facilitating this life-changing experience is unwavering.
Gold Standard: Damian's dedication and professionalism have been consistently recognized.  He has been honored with the Gold Award from the Mortgage Bankers Association of Georgia every year since 2013.
Customer Satisfaction: In 2022, Damian's outstanding commitment to client satisfaction was affirmed when he was acknowledged by Experience.com as a top 1% Morgage Loan Officer out of more than 50,000 loan officers.
Family Man: Outside the world of mortgages, Damian treasures quality time with his wife, Kimberly, and is deeply involved in coaching his three children in various sports.  The lessons of teamwork and dedication are ones he imparts both at home and in his professional life.
Community and Faith: Damian is an active member of Dunwoody Baptist Church, where he currently serves on the Leadership Commitee.  For the past decade, he has been a faithful member of the Perimeter North Young Life Committee, contributing to the growth and development of young individuals.
Join Damian on the mortgage journey.  Trust, experience and dedication are at the core of his service!  Contact him at dcook@assurancemortgage.com for your home financing needs.
Check out this live interview of Damian with Business Radio X discussing local Atlanta real estate and the landscape of home lending!
Check out this webinar where I am featured for a Fintech discussion on the mortgage industry: Purchase Kings & Queens: Leading Lenders Share Their Market-Crushing Strategies

Damian is a proud supporter of many local organizations, including:
Children's Healthcare of Atlanta
Dunwoody High School
Wounded Warrior Project
Perimeter North Young Life