Potential homeowners have a variety of options when it comes to securing mortgage loans. One of these options is a USDA rural loan. But what exactly is a USDA loan? How can an interested homebuyer get approved for a USDA home loan? What are the interest rates, income limits and other requirements? Here at Assurance Financial, we have the answers for you.
What Is a USDA Loan?
The United States Department of Agriculture (USDA) offers loans to people who currently live or want to live in eligible suburban and rural locations. If you and your property are eligible, the USDA rural loan may be an excellent financing option for you.
What Is the History and Intent of the USDA Loan Program?
In 2014, as a part of its Rural Development program, the USDA invested nearly $20 billion to help thousands of families buy and improve their homes. This program is designed to enhance the quality of life and economies in suburban and rural areas. It offers no down payment and low-interest rate mortgage options readily available to eligible areas.

USDA loans were created with the intent of serving people who have lower incomes. For a conventional loan, high-income earners can generally get approved easily, while those with lower incomes may struggle to secure a similar type of mortgage loan. USDA loans were created for those people, and even have income limits in place that prevent applicants who have a larger income from qualifying. USDA loans were also formed to focus on rural communities, so you cannot qualify for a USDA loan for a property in a metropolitan area.
Contrary to popular belief, you don't need to be a farmer or to become a farmer to secure a USDA rural loan. A USDA loan can certainly be used to purchase a farm, but it can also be used to buy any residential home in a rural or sometimes suburban area. You don't need to grow crops to secure a USDA rural loan as long as you meet the income and other eligibility requirements.
The intent of the USDA rural loan program was to give potential homebuyers an affordable and accessible financing option. At Assurance Financial, we strive to align our application process with those qualities in mind by making every step as simple and fast as possible.
Who Typically Uses or Benefits From a USDA Rural Loan?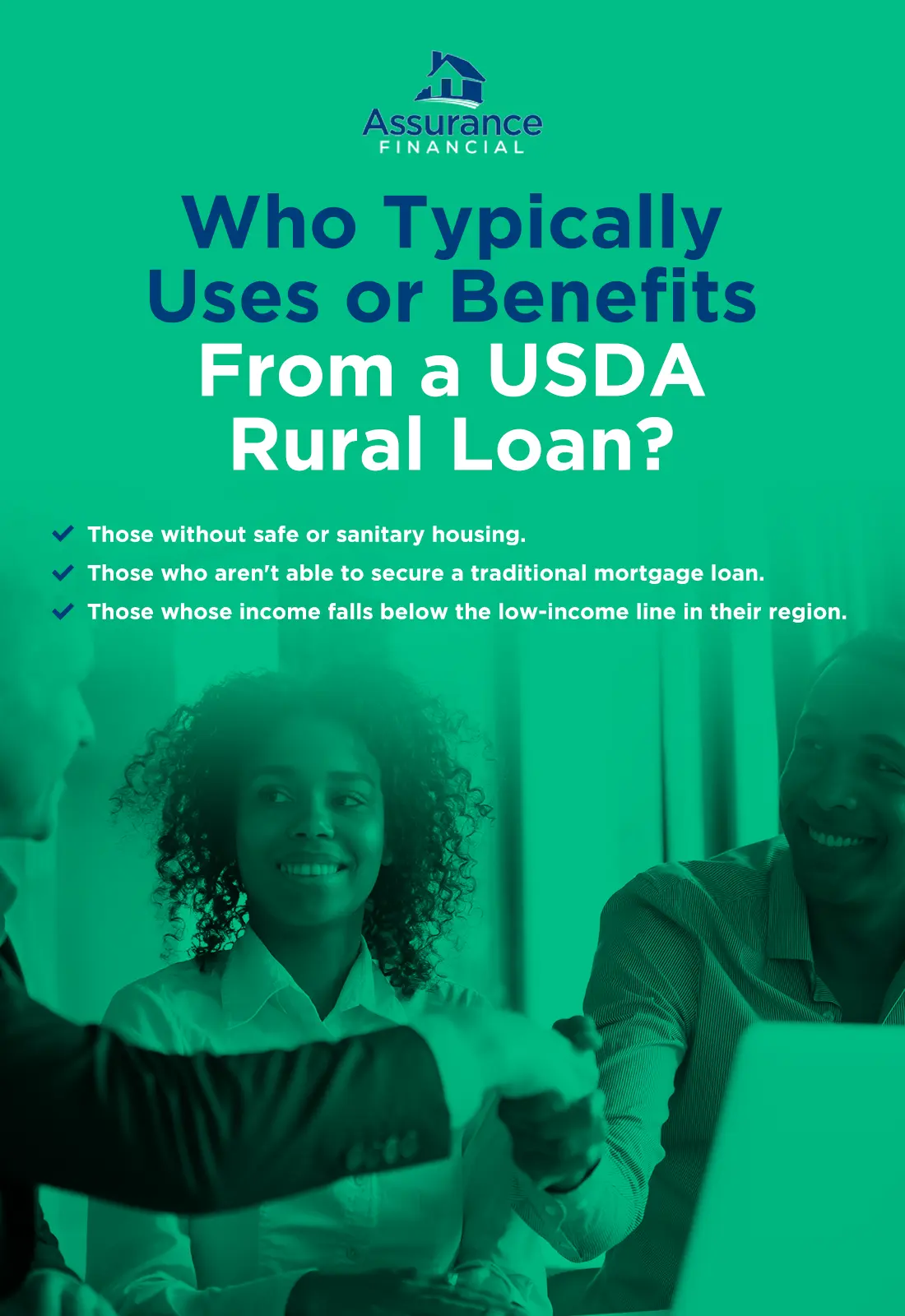 Rural loans all center around being in an eligible area. If you live in an eligible area, you can use and benefit from a USDA rural loan in several different ways.
If you are repairing or renovating an existing home in the eligible area, you can get up to nearly $30,000 in assistance. Don't worry if your income is low, as these types of loans are meant for low-income borrowers. And, while lenders will look at your income and credit history, the application is very lenient when it comes to credit. The better credit you have –– the sweet spot is 620 and higher –– the less strict your underwriting will be and the better your loan terms may be.
USDA mortgages exist especially for high-need applicants, such as:
Those without safe or sanitary housing.
Those who aren't able to secure a traditional mortgage loan.
Those whose income falls below the low-income line in their region.
Loans are limited to homes that are equal to or less than 1,800 square feet and hold a value that is less than the region's loan limit. Nationwide, the limit is generally at $216,840.
So what are the benefits of a USDA rural loan for eligible borrowers? A USDA loan:
Is an affordable financing option for those with low or moderate income.
Can offer 100% financing, meaning you may be able to also roll your closing costs into your mortgage.
Offers one of the lowest mortgage insurance rates on the market, second only to VA loans for veterans. You may be able to avoid mortgage insurance altogether with a larger down payment.
Does not require a down payment.
Is not limited to first-time homebuyers.
Offers 30-year fixed rate terms.
Allows for seller contributions to closing costs.
USDA rural loans can be an excellent financing option with a ton of great benefits.
Who Can Qualify for a USDA Loan, and What Can the Loan Be Used For?
The uses and benefits of a USDA rural loan may sound appealing, but can you qualify for a USDA loan? Review the requirements to determine whether you can get approved for a USDA home loan and whether this loan is right for you:

Income level: Your income is relatively low for your region. USDA loan income limits are determined by factors such as region and household size, so check the income eligibility page to see if you qualify.
Type of property: Your loan will be used for a primary residence. If you're opting for a repair loan, you'll need to occupy the property.
Credit history: You are able and willing to meet credit obligations. Your ability to meet your credit obligations must also be verifiable, such as whether you have a reliable income.
Citizenship: You are a U.S. citizen or eligible noncitizen. Noncitizens must be able to meet the requirements for eligibility.
Location of property: Your new property is eligible. Your property won't be eligible in a metropolitan area, but a suburban area may be eligible.
Debt-to-income ratio: Your monthly payment will be equal to or less than 29% of your monthly income if your credit score is 680 or less. Unless your credit score is above 680, your debt-to-income ratio also cannot be greater than 41%.
To be eligible for a USDA rural loan, you must prove your U.S. citizenship or eligibility as a noncitizen, dependable income –– typically for a minimum of two years –– and acceptable credit history. Most lenders want borrowers with a credit score of 620 or higher, but those with lower scores can still be eligible by meeting stricter underwriter requirements. USDA loans also usually offer low interest rates and don't require a down payment. You may need a decent credit score and history, but a high score isn't necessary for qualification.
Maybe you qualify for a USDA loan, but what exactly can you use the loan for?
There are three types of USDA home loan programs — loan guarantees, direct loans and home improvement loans or grants.
1. USDA Loan Guarantees

The USDA guarantees mortgages issued by a participating local lender, similar to VA and FHA loans. This is a 90% guarantee and allows eligible buyers to get low mortgage interest rates without a down payment. However, you will need to pay a mortgage insurance premium if you do not put money down. With a guarantee, if you are unable to pay back your mortgage, the government will cover the losses for the lender. The amount you finance cannot exceed the value of the home or purchase price.
A USDA guaranteed loan comes with income limits, but these are higher than for USDA direct loans. Guaranteed loans also charge an upfront fee of 1% along with a monthly fee of 0.35% for mortgage insurance. For a loan of $120,000, for example, a borrower would pay an initial fee of $1,200 and a monthly mortgage insurance fee of $420.
To calculate your upfront cost on your USDA guaranteed loan, multiply the loan amount by 0.01. To calculate the monthly mortgage insurance fee on your guaranteed loan, multiply the loan amount by 0.0035.
2. Direct Loans

Direct loans issued by the USDA are for low and very, very low-income applicants. These income thresholds vary by region, and the maximum amount you can finance depends on how much you're capable of repaying depending on your income, any other debts and any payment assistance you may be eligible for. Interest rates are around 3.5% for the majority of borrowers but can be as low as 1% with subsidies. Repayment periods can also last to a total of 38 years, which is beyond the standard 30-year mortgage term. For these direct loans, you may be required to undergo education in homeownership and be charged a fee for this education.
3. Home Improvement Loans or Grants
USDA home improvement loans or grants allow homeowners to repair or upgrade their rural home. This also includes modernizing or repairing the home to remove safety and health hazards. Alone, loans can provide up to $20,000 of financing. For eligible seniors who may be able to combine a loan with grants, the USDA can provide financing of up to $27,500. The interest rates for repair loans are 1%. Income limits vary by region and household size, so you should consult the USDA eligibility page to figure out your local limit.
resources
Downloadable Guides
We've created these guides to be a valuable resource to walk you step-by-step through your next adventure.
What Is the Application Process for a USDA Loan?

Fortunately, the USDA rural loan is meant to be as affordable and accessible as possible, and so is our application process. Applying for a mortgage with us at Assurance Financial takes just a few minutes. You can progress quickly through our online application and discover the options that are available for you.
We understand that applying for a mortgage can seem like an overwhelming process, especially if it's your first time in the market or if you've been rejected for a mortgage loan before. That's why USDA rural loans can be an excellent financing option since they tend to be easier to qualify for.
1. Get Prequalified
With Assurance Financial, you can get prequalified by providing your credit score and other financial details. You can get a free, no-obligation quote within 15 minutes by starting online or by speaking to a loan officer.
2. Fill out Your Application

After you find a property you like, you fill out your complete application. With Assurance Financial, you can complete your application online. We perform the rest of the process in-house — we never outsource underwriting.
To fill out your application, here is some of the financial information that you'll need:
Assets: You no longer have to fax bank statements to give us information on your assets. With our integrated system, you can simply log in to your bank accounts.
Tax returns: Copies of your federal tax returns from the past two years may be requested. If you use TurboTax, you can simply log in using our system and complete this step quickly.
Credit score: Your credit score can determine whether you qualify for a mortgage and what the terms of your mortgage will be, so your payment history, debt and other types of credit may all be taken into account during your application process.
Proof of income: If your employer uses a well-known payroll company such as ADP, you just need to use your payroll login to prove your income.
Proof of identification: Snap a photo of your government-issued photo ID to prove your identity and upload it to your application. Yep, it's that simple.
3. Processing the Application
Processing your application includes underwriting and appraising. After processing is complete, we decide whether you are approved for a loan.
APPLY TODAY
4. Funding Your Mortgage

If we determine that you are eligible for a mortgage loan, and we can fund your loan, the next phase is signing with a notary, funding the loan and closing the mortgage. At closing, you'll sign all necessary paperwork, such as the documents for your loan. After the paperwork is back to us, the check will be delivered to the home's seller. Finally, you'll be able to pack your bags and move into your home!
At Assurance Financial, we want to help you secure the right mortgage for the house of your dreams. We're here to answer any of your questions and help you understand everything you need to know for applying for your loan.
Whether you're looking to buy a farm or a home or to build or renovate your property, we have the loans and resources to help.
What Areas Qualify for a USDA Loan?
If you're unsure if you live in an eligible area, the USDA has a map with the areas on them. You can access the USDA's Income and Property Eligibility site to determine whether your property may be eligible. First, choose the program that interests you.
Next, search the address of your home to check whether the property is located in an eligible area. The process is similar for determining income eligibility.
You can also check the limit that applies to the county where your home will be located. Simply click on the state you are or will be living in to find your county's loan limit.
If you're interested in securing a USDA rural loan as an option for financing your home, be sure to first check that the property is eligible for the loan via the USDA's eligibility pages. You can also reach out to us at Assurance Financial to find out more information about the USDA rural loan requirements in your region.
Apply for Your USDA Loan With Assurance Financial

USDA Rural loans are perfect for homeowners or buyers in many ways. Rural and some suburban homeowners who may not qualify for a conventional mortgage loan may be able to finance their dream home with a USDA rural loan.
The trick is knowing if your current or future home is in the eligible area. Luckily you have us. At Assurance Financial, we will answer all your questions and make sure you have everything you need. We want to ensure you get the USDA loan you need with the terms that work for you.
Why should you finance your home with Assurance Financial? We have an average 4.98 star-rating across thousands of reviews for a few reasons:
We offer outstanding customer service. We're here to help, and our glowing reviews illustrate how much we care and the value we put into our clients' satisfaction with their lending experience.
We offer a comprehensive approach to financing. With Assurance Financial, you won't have to deal with the hassle of several different contacts. You can complete the entire loan process under our roof.
We offer a large variety of loans. Everyone's financial and personal situation is different, and at Assurance Financial, we offer options for mortgages that can suit every client we serve.
We offer a simple application process. We offer both a virtual application process and a process with one of our loan officers to make your loan application as smooth and fast as possible.
We are an approved independent lender. We are both Fannie Mae and Freddie Mac seller and servicer approved. We are also Ginnie Mae issuer approved.
As an independent lender, we know homeownership is the dream for just about every one of our clients, and we aim to make that dream a reality. No matter what your life situation is, whether you're buying your first home, starting a family or enjoying your golden years, we have the mortgage loan solutions for you. We have loan officers across 28 states, so you can search for a local loan officer who knows information relevant to your location and situation.
At Assurance Financial, you can find end-to-end processing for your USDA loan all under one roof so your journey of securing your dream home is easier. Just contact one of our home loan experts and apply online today!