You've just found the home of your dreams! Now you need to sell your current home. Regardless of whether you're selling in a buyer's market or a seller's market, the tips and tricks for selling your home fast are the same. In either market, you'll find that buyers are most interested in your property during the first few weeks after you put it on the market, so you'll want your home to be in prime condition from day one to sell quickly.
To help you through the process, we've compiled all the tips for selling your home that you need to make a quick sale and move into your dream home.
Find the Right Real Estate Agent
If anyone knows how to sell a house fast in your area, it's a local real estate agent.
Finding the right real estate agent is one of the key methods for selling your home fast. You can probably find a real estate agent quickly, but how do you find the right agent? For many homeowners looking to sell, the prospect of finding the right real estate agent to guide them through the process can be overwhelming.
To help you find the right real estate agent, follow these tips.
1. Get Referrals
Talk to your family, friends and acquaintances to see if they know any real estate agents they would recommend. What was their experience with a particular real estate agent? Would they want to work with that real estate agent again? Focus on talking with people who were in a similar situation as you when they were selling their home. You'll want to work with a real estate agent who is experienced in working with clients like you. For example, are you looking to downsize? Are you interested in luxury properties? You want a real estate agent who is comfortable working with your situation and needs.
To make sure the real estate agent is reputable, you also may want one who is a member of the National Association of Realtors (NAR). As a member of this organization, the agent has agreed to abide by a code of ethics. You may also want an agent with certifications, such as a Certified Residential Specialist. A real estate agent with this designation has trained to handle residential properties.
2. Research Your Candidates
After you've collected a list of referrals, you can begin researching your candidates. Do they have a website or social media presence? Are there any online reviews? A couple of negative reviews is normal, but several negative reviews may be a red flag that you may not want to work with this agent.
You can also look up a candidate on the local Better Business Bureau website or the state's real estate regulator. You'll find out whether a candidate is licensed or has received complaints.
3. Interview Agents
How many real estate agents you interview is up to you, but interviewing three candidates should give you a good idea of what you're looking for and what qualities you may not want in an agent. During an interview, you'll get a sense of the agent's approach, experience, availability and preferred method of communication. Do you prefer communicating via text or phone calls? What are the most convenient times in your schedule to work with the agent or show your home? The right agent for you knows your area and can work with your schedule.
4. Ask Agents for References
For the agents you're interested in working with, ask them to give you contact information for a few of their most recent clients and information on the homes they've sold in the last year. You can then contact the agent's clients to ask about their experience with the agent. Did they have a positive experience? Would they hire that agent again?
5. Examine Your Contract
Once you're ready to move forward with an agent, examine your contract to review the terms, particularly the commission your real estate agent will be receiving. Sellers generally pay 5 or 6% in commission, with half going to the seller's agent and half to the buyer's agent. You should also note the term of the contract, and aim for a term of six months or less.
As with any relationship, trust your gut when it comes to selecting a real estate agent. Beyond numbers and qualifications, you want a real estate agent you can get along with and have a great working relationship.
Choose the Right Time to Sell

How do you sell a home fast? One of the first steps is knowing whether you're selling at the right time. Your real estate agent can't make every decision about your home selling process, and choosing the right time to sell should be a decision you can make on your own.
The month and possibly even the day you choose to list your home can play a huge role in how long it takes you to sell. So how do you pick the best time to sell your house fast?
Here are a few tips to follow for choosing the right time to sell:
1. Sell in the Spring or Summer
Spring and summer tend to be the best seasons of the year to sell a home. Spring and summer tend to offer weather conditions that are optimal for home shopping, and when buyers still haven't found a home by the summer months, they start to become worried. For many families, finding a home before the start of the new school year motivates them to find a property quickly. Sellers can reap the benefits of this urgency from buyers by selling faster and for a higher price.
Selling during the off-season doesn't always mean a loss, though. In places that tend to be warm year-round, you may be able to sell when snowbirds travel to your state for the winter. During the fall and winter in colder areas, you may be able to stage your home according to the season and holidays to make your property more appealing to potential buyers. You'll also likely enjoy less competition in the fall and winter, meaning your home will stand out to buyers.
2. List Your Home on Thursday or Friday
Bright and early Thursday or Friday morning may be the best time to list your home. Most buyers will wait until the weekend to go house hunting, so they'll start browsing their options on Thursday and Friday before the weekend.
Listing your home before Thursday means your property will be farther down on the listings page or on a different page entirely. You want your home to be one of the first that potential buyers see, and waiting to list until later in the week can help you accomplish this. In some areas with particularly competitive markets, you may even want to wait until Saturday to list your home.
3. Sell When It's Right for You
Sometimes, our life circumstances dictate when we move. Maybe you found your dream home in October and you want to close and move in as soon as possible. You might be starting an out-of-state job in the dead of winter. You could wait to sell your home until spring, but would the financial costs of paying for two homes outweigh the benefits of waiting to sell until then?
Your financial situation and your priorities are sometimes the most important factors when choosing the right time to sell your home.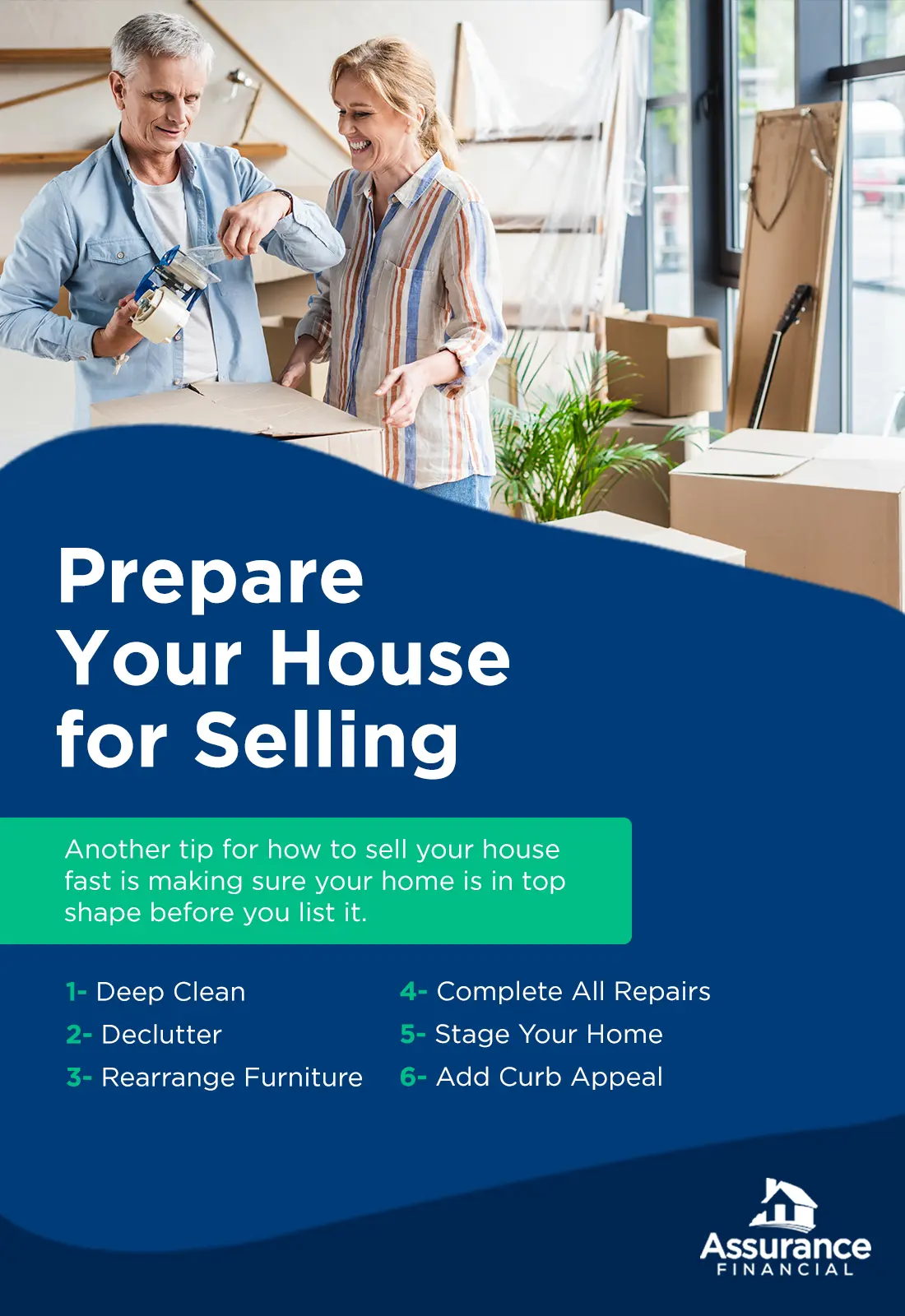 Another tip for how to sell your house fast is making sure your home is in top shape before you list it. Follow these tips to get you there.
1. Deep Clean
Time to put those cleaning skills to use. Before putting your home on the market, you may want to do a deep clean in every room. Sweeping the floors and dusting off the shelves is just the start. Don't forget to vacuum and shampoo the carpet, scrub the bathroom tiles and wipe down the baseboards, kitchen cabinets, window blinds and ceiling fans. You may also want to give your windows a thorough cleaning to allow as much light as possible to shine in.
If you'd rather not do the deep cleaning yourself or you want to get it done fast, you can hire professionals to take care of the job for you.
2. Declutter
Many homeowners accumulate belongings over the years. When you're ready to sell and move, you may find that you don't use or want some of your belongings anymore. That couch you inherited from a relative that doesn't match any of your other furniture, the second microwave you somehow acquired and the trinkets well-meaning friends and family gifted you over the years that serve no purpose — now is the perfect opportunity to get rid of all the items you no longer want.
Buyers want to see organization and open spaces. With plenty of clear space, potential buyers can get a better idea of the square footage of your property.
Organize closets: This is an especially important task when decluttering, as buyers want to know that a home has plenty of storage space.
Remove personal items: You may also want to remove family photos and other personal items so that buyers can imagine themselves in your home.
If you want to hold on to many of your belongings rather than sell or donate them, you can rent a storage unit to keep your items until you're ready to move them to your new home.
3. Rearrange Furniture
You want your home to be inviting to potential buyers. Your furniture should make them want to sit down and relax. If your guests are bumping into things while they're walking through your house, you may want to consider rearranging your furniture. You can move furniture away from your walls to give the feel of open space. Any big furniture that tends to get in the way, you may want to put into storage.
If you want to go the extra mile, you can hire a professional who can approach your home with a fresh pair of eyes and make suggestions on how you can rearrange the rooms.
4. Complete All Repairs

If your home requires repairs, especially extensive repairs, buyers can use them as leverage to offer a lower price. The more repairs you can make before listing, the more likely you'll be to sell at or above your asking price. In a home that needs a lot of work and if you're strapped for time, focus on the most significant issues.
Some issues are obvious and will catch the eye of just about any potential buyer, such as:
Stains
Peeling paint
Rotting wood
Loose tiles
Dripping faucets
Cracked windows
Broken lights
Loose door handles
Even if a buyer doesn't pick up on an issue, an inspector will.
If you're unsure whether fixes need to be made, you can schedule an inspection before listing the property. If your goal is to sell your home fast, you don't want risk losing the sale over something that can be fixed before buyers even lay eyes on it.
5. Stage Your Home
The finishing touch on the interior of your home is staging. Through staging, you can make your rooms appear bigger and more spacious and decorate in a way that makes buyers feel like they could make this house their home. Setting the table with your good china and linens can give buyers the ability to envision themselves living in your home, for example.
If you need inspiration, you can search online or even hire a professional stager.
6. Add Curb Appeal
Even if you're satisfied that you've cleaned, decluttered, fixed and staged the interior of your home to perfection, you may still want to do a little work on the exterior. Before showing your home, you'll probably want to do a little landscaping.
Mow the lawn
Trim the hedges
Rake leaves
Clear walkways
Plant flowers
Sweep the porch
Cut down overgrown tree branches
When your home is in pristine condition, it's far more likely to sell fast.
List and Promote Your Home
Once you've prepared your home for selling, you can get ready to list and promote your home.
1. Price Your Home Accurately
Allowing your ego to inflate your home price may prevent you from being able to sell your property. You might find comparable sales by looking at online databases, local newspapers and local assessors' offices. A real estate agent may also be able to help you list your home at the appropriate price according to its square footage. In a buyer's market, you may want to select a price that will interest buyers in your home. Pricing low may even result in a bidding war that pushes your home price up to the range you wanted.
2. Be Upfront About Flaws
No matter how much work you put in before selling, your home will most likely have some flaws. If you're upfront about these flaws with potential buyers, you'll ensure that you're not wasting their time or yours. While the description on your listing should make your home sound appealing, it should also be accurate. Neither your description nor photos should be deceptive. Not much is more disappointing for a buyer than discovering the dream home they found online looks completely different in person.
3. Provide a Good Experience
Your goal should be to make your home a must-buy for potential buyers. Generally, you have only one chance to make a good impression on a buyer. By the time you're ready to show your home, it'll be clean, decluttered and staged to enhance its appeal to buyers.
Put on some music, light a fire in the fireplace, bake cookies or light candles. Your house should smell, sound and look appealing, like a place potential buyers can call home.
Get a Mortgage in 15 Minutes – Let Assurance Financial Help You Buy Your Dream Home
If you've found your dream home, Assurance Financial can help find the right mortgage for you. We offer personalized service to guide you to the best option, whether you're downsizing, dream-sizing or buying a second home. To see if you qualify, apply with Abby online in only 15 minutes!