The average person living in the U.S. will move around 11 times during their life. Whether you've moved once, twice or 11 times, you know it's not always the most enjoyable activity. Often, though, the benefits of moving outweigh the hassle and challenges. You may move before starting a new job and expanding your family, or you may move just to get a change of scene. Whether you need a fresh start, a bigger house or bigger yard or want to finally get a laundry room of your own, take a look at some of the more common reasons for moving.
Topics Covered
13 Reasons People Move
A home or apartment that was a perfect fit for your needs years ago may no longer be right for you. If you're considering buying a new house and moving but are in need of some motivation, it helps to look at common reasons people move to see if they match your own reasons for wanting or needing to relocate.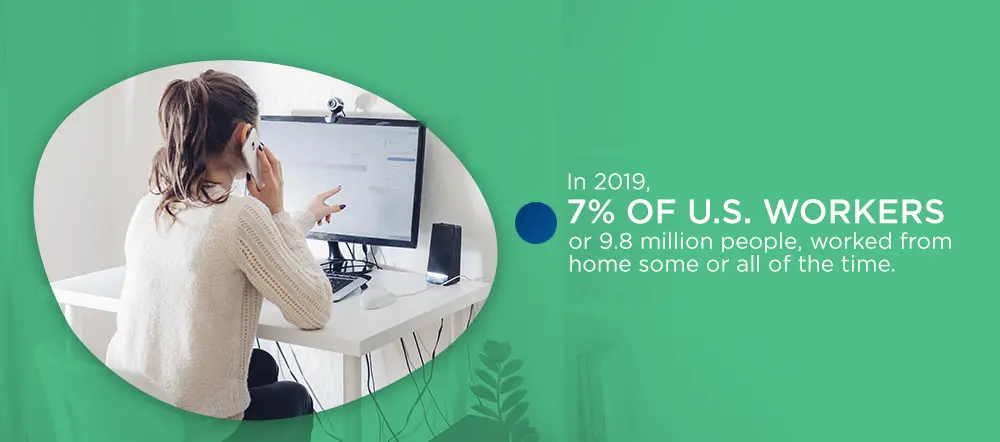 1. They'd Like a Home Office
In 2019, 7% of U.S. workers, or 9.8 million people, worked from home some or all of the time. Whether your current job allows you to work from home or not, a home office can be a nice thing to have. If you don't currently do paid work from home, you can use the home office as a quiet space to take care of household management tasks, such as paying the bills or speaking with contractors. If you do have the privilege of working from home for your job, a home office gives you a secluded place to accomplish your tasks for the day and have conference calls and video meetings in privacy.
Demand for home offices has increased among homebuyers in recent years. In 2003, 55% of buyers said they wanted a home office. In 2018, 65% of buyers said they wanted an office in their home. In 2020, the COVID-19 pandemic forced millions to work at home creating a vital need for a home office. If your current home office has no space for the desk and organizational items you need, you can upgrade your office with a move as well.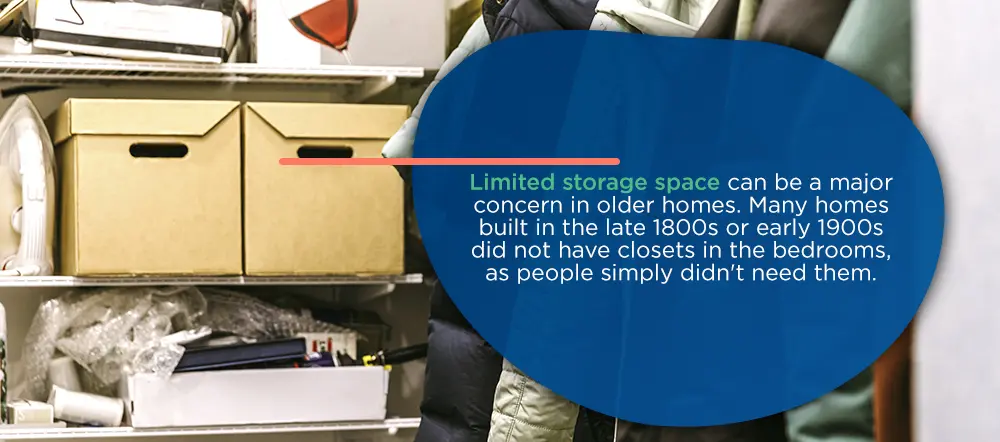 2. They Need More Storage Space
People in the U.S. tend to own more items than people living in other countries. While decluttering and donating, selling or discarding unused or unwanted items has become more popular lately, it's also popular for people to move to get more storage space. Who hasn't complained that their bedroom closet is too small? And who hasn't wished that they had extra room in their kitchen, bathroom or living area for personal belongings?
Limited storage space can be a major concern in older homes. Many homes built in the late 1800s or early 1900s did not have closets in the bedrooms, as people simply didn't need them. The few garments they owned were stored in trunks or dressers, not in closets.
If you've converted your garage to storage or rented an off-site storage unit, it can be easy to see why you'd want to upgrade to a home with more closet space or with built-in storage options, such as built-in bookshelves and storage cupboards. When all your belongings have a place to live, your home can be more organized and tidy, and you can feel more at peace.
3. They'd Like a Bigger Yard
While city living has its perks, one drawback for many people is the lack of yard space. In a city apartment or house, you may only have a small patio or a balcony to call your own. When summer barbecues begin and in-ground swimming pools beckon, people often find themselves drawn to homes that have significantly more yard space.
There are many things you can do in a larger yard, such as grow your own vegetables and flowers, invite friends over for lawn games and picnics, or install a pool. Homes with large, fenced-in backyards can be particularly desirable to people who have dogs, as the yard provides a safe space for the dog to run around and play outdoors. Families with children often find themselves moving to get a bigger yard. Young kids can play safely in a fenced-in yard, giving them the opportunity for fresh air and exercise.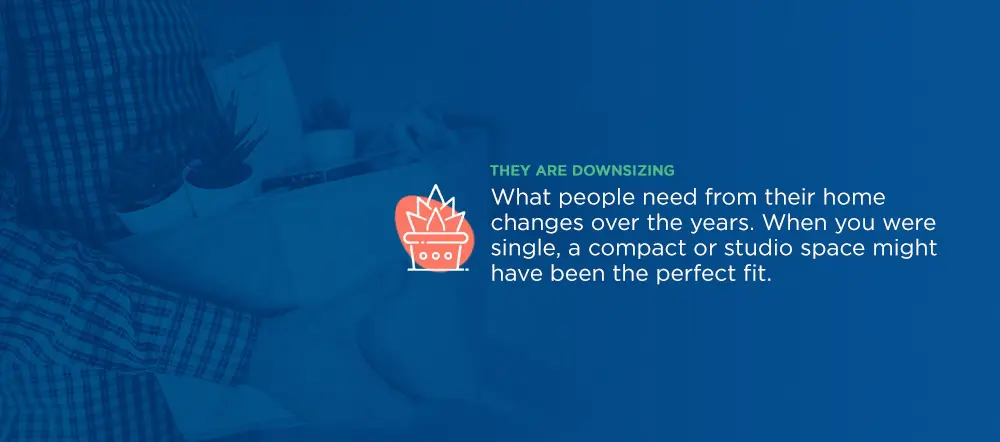 4. They Are Downsizing
What people need from their home changes over the years. When you were single, a compact or studio space might have been the perfect fit. When you and a partner were raising kids and pets, a three- or four-bedroom home with a large backyard most likely worked well. Once the kids are grown up and in homes of their own, you might find that multiple bedrooms go unused. The large backyard might be too much work to take care of, or you might not use it as much as you once did.
Downsizing has its benefits. When you trade a larger home for a smaller one, you often end up with a smaller mortgage and lower monthly payments. Smaller homes can also be easier to take care of, as they require less cleaning and maintenance. Depending on your budget, if you need to downsize, you might be able to afford to live in a more desirable area or in a neighborhood with more amenities compared to if you wanted to buy a larger house.
Although downsizing is often associated with empty nesters or people in retirement, anyone can do it at any age. For example, when you bought your current home, a lot of bedrooms or a large yard might have seemed ideal. But after living in the house for a while, you may have realized all that space doesn't work with your habits or lifestyle.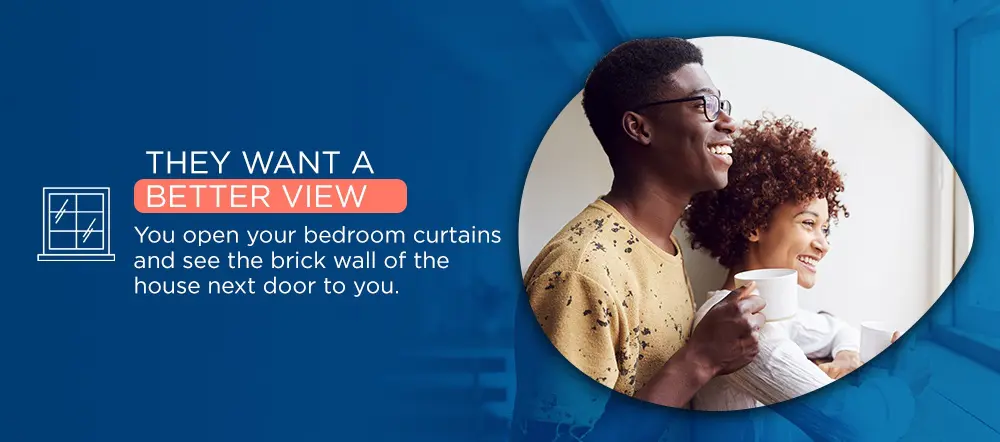 5. They Want a Better View
You open your bedroom curtains and see the brick wall of the house next door to you. Or, you look out the window in your living room and see a row of stores across the street. While the search for a better view might not be the sole reason for moving, it can play a significant role in the decision to relocate.
There are definite benefits of having something nice to look at when you glance out your windows. One study of 278 patients undergoing cardiac or pulmonary rehabilitation found that the patients who had a panoramic view of natural surroundings from their bedroom window were more likely to report improvements in their mental and physical health compared to patients who had a blocked view from their bedroom windows.
Another study found that people who took "microbreaks" and looked at images of nature were better able to concentrate and pay attention compared to those who didn't.
6. They Want to Be Closer to Family
Over the years, families tend to become far-flung. One child might have traveled across the country for college, discovered they liked it there and stayed. Another might have relocated to Europe or Canada for work. Often, major life changes can inspire people who moved away from home to come back. In some cases, parents might pack up and move to be closer to their children and grandchildren.
Deciding to move closer to family has many benefits. For parents who move to be closer to their adult children, it provides the opportunity to maintain or build strong relationships with those children as they move through adulthood. It also gives older parents the opportunity to get to know their grandchildren. Instead of only seeing the grandkids on holidays or birthdays, a grandparent who lives in the same city or town has the chance to be involved in the daily lives of their grandchildren.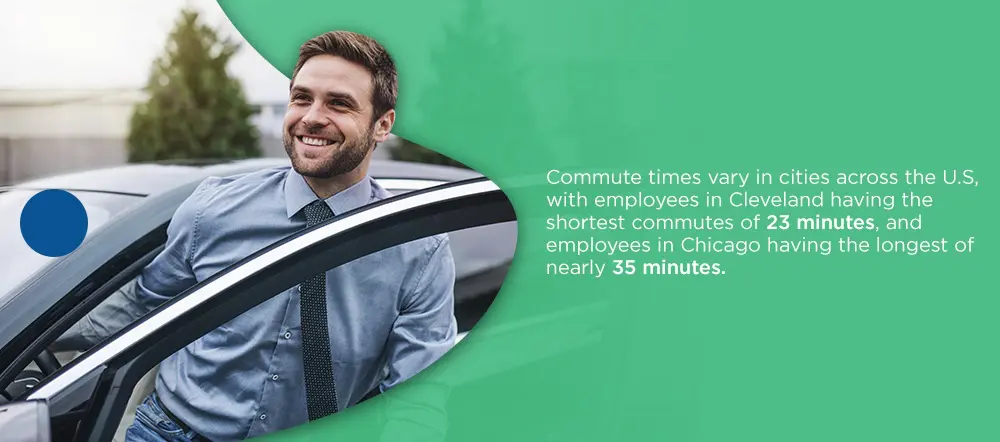 7. They Want to Be Closer to Work
Commute times vary in cities across the U.S, with employees in Cleveland having the shortest commutes of 23 minutes, and employees in Chicago having the longest of nearly 35 minutes. For many people, moving to shorten a commute makes sense. The less time you are spending behind the wheel or sitting on a bus or train each day, the more time you will have for things that matter to you. If you shave 10 or 15 minutes off your one-way commute time, you'll have enough time each day to watch a sitcom with your family, spend more time at the breakfast table with them or even sleep in a bit longer before getting up to get ready.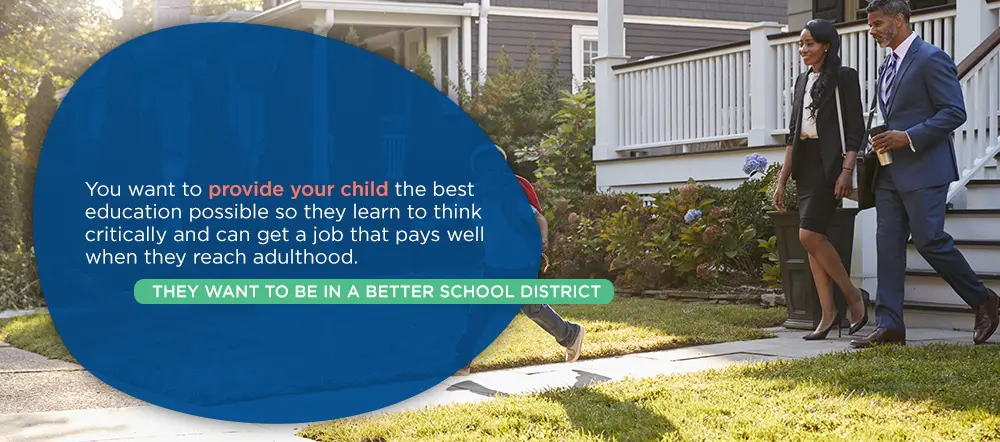 8. They Want to Be in a Better School District
You want to provide your child the best education possible so they learn to think critically and can get a job that pays well when they reach adulthood. Unless you plan on sending your children to private school, in many cases, where your kids go to school is determined by where you live.
When you moved into your current home, you might not have had children yet or might not have given much thought to the quality of the schools in your area. Now that your kids are at or near school age, it is likely a different story. You may decide to pack up and move so your family is in the catchment area of a highly rated school district. You may also want to move so your children can go to a school district that has a lot of magnet school options for specialized training, such as a performing arts school or a school that's dedicated to the sciences.
9. They're Looking to Reduce Living Costs
There are considerable differences in the cost of living across the U.S. Places such as San Francisco, California and Brooklyn, New York have the highest housing costs in the country, as well as above-average costs for utilities, groceries and other day-to-day necessities. In some areas, it can be difficult to make rent and afford to save up for a down payment on a home while earning an average salary.
One way to cut the cost of living is to move to a place that is cheaper than average. Reducing your housing costs and other expenses allows you to reach financial goals, such as paying down your debts or saving to buy a house. In some cases, a person who is currently renting might look to areas with lower costs when they are interested in buying a home. Moving somewhere with lower housing costs can mean that you get a bigger house, with a big yard and all the amenities you need, at a price you can afford.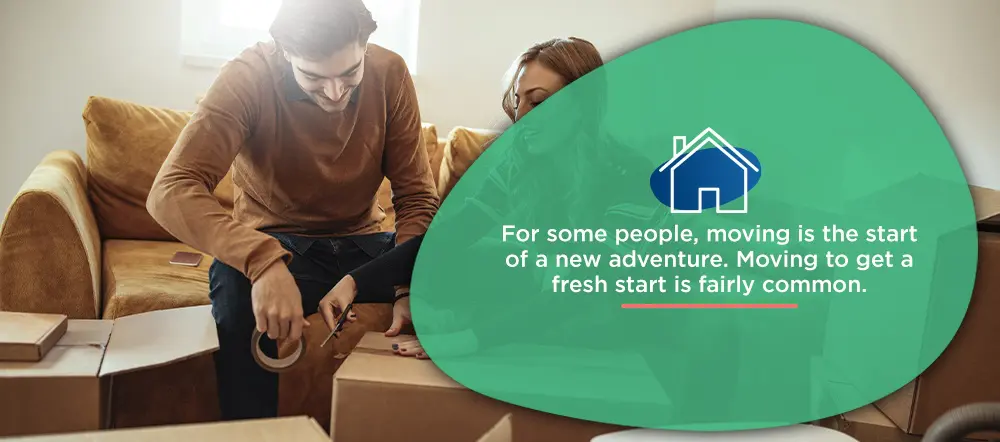 10. They Want to Try Something New
For some people, moving is the start of a new adventure. Moving to get a fresh start is fairly common. A person might decide to move to a new state or city to start over after going through a divorce or the breakup of a long-term relationship. Recent college graduates might pack up and move to a new city in search of more job opportunities or for an adventure.
Although some people decide to move for a climate change or out of curiosity, others might spend a considerable amount of time choosing where they go. They might look at the job opportunities available to them in a particular area and compare those opportunities and the salary potential to the cost of living. In some cases, people decide to move to a new area based on its proximity to other major cities. For example, a person might decide to move to Philadelphia to take advantage of its proximity to both New York City and Washington, DC and its comparatively lower cost-of-living.
11. They Want an Updated Kitchen
The cost of a kitchen remodel can be anywhere from $23,452 for a minor upgrade to $135,547 for a top-of-the-line major renovation. Usually, homeowners recoup around 53.9% to 77.6% of the cost of the kitchen upgrade when they sell their home.
If you're not thrilled with your current kitchen, it might make financial sense to find a new home that has a kitchen that meets your needs or that has been updated more recently. Moving to a house with a better kitchen can be ideal if you have to move for other reasons, too. It can make more sense to leave your current kitchen as-is and let the next homeowner put their own personal stamp on it, rather than invest in a remodel or renovation right before selling.
12. They Need More Bedrooms
There are several reasons why a person or family might need to upgrade to a house with more bedrooms. If you currently live with a partner in a two-bedroom home, it might seem that you have more than enough bedrooms for your needs. But if you both start working from home, you might appreciate having a separate room to go to where you can close the door when you are on calls or video conferences.
If you, your partner and your child live in a two-bedroom home and you're expecting a new child, you may want an extra room for the baby. Or, you or your partner might have recently lost a parent and want to have an extra bedroom or an in-law suite for your remaining parent to sleep in when they come to visit.
It's often easier to move to a home that already has the number of bedrooms you want than to try to make a home that is too small for your family work for you.
13. They Want a Home With Dedicated Laundry Space
Plenty of homes either do not have a washer and dryer or do not have the space needed for a laundry room. In some houses, the washer and dryer are combined into a stacked unit that's tucked away in the corner of a kitchen or hallway. There's no room for hanging clothes up to dry or for sorting garments on laundry day.
People who don't have a washer or dryer at home can have an even more challenging experience doing laundry, especially if they live with other people. When there's no laundry equipment at home, you may need to haul all your clothes, sheets and towels to the nearest laundromat and pay to use the machines there. You may also need to dedicate a few hours to sitting at the laundromat waiting for the wash and dry cycles to finish.
For some people, moving to a house that has its own laundry units or that has a dedicated laundry room is definitely worth it.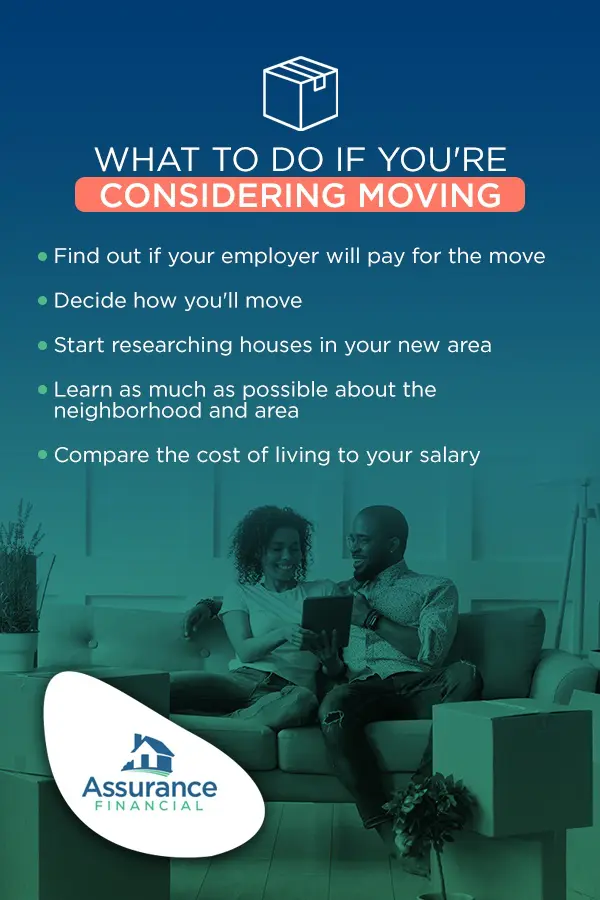 What to Do If You're Considering Moving
In some cases, moving makes sense for you and your family. You can get back free time in your life after a move, enjoy a more affordable life or simply have more room to spread out at home. Whatever your reason for making a move, there are some things to do beforehand, including:
Find out if your employer will pay for the move:If you're moving for your current job or for a new position, there is a chance your employer may offer to cover the costs of your move. Find out if you qualify for a relocation stipend, and if you do, how much the stipend will be.
Decide how you'll move: If you have a relocation stipend, it might be worthwhile to spend some of it on hiring professional movers. A moving company can pack up your belongings, haul them into the truck and transport them to your new place. You might also consider doing the move on your own by renting a truck or van. Another option is to hire a packing cube, pack it yourself and pay a hauler to bring it to your new home.
Start researching houses in your new area: Before you move, it may be helpful to get an idea of what you can afford in your new area and if the price of housing in that area lines up with your budget. If you're planning on buying, now is a good time to start the mortgage application and pre-approval process, so you know how much how you can afford to buy and how your budget compares to what's available in your new hometown.
Learn as much as possible about the neighborhood and area:There's more to moving than buying a house. It's also important to learn about the area as much as possible, particularly your immediate neighborhood. Walk or drive around the neighborhood to see what's available. Look up the schools, where the nearest hospital is and take a look at what amenities are nearby.
Compare the cost of living to your salary: Confirm you can afford to live in or near an area before moving by looking at the overall cost of living and comparing it to your current or new salary. Keep in mind that if you currently live in an area with a high cost of living and plan on moving somewhere more affordable while keeping your job, your employer might cut your pay. Some companies offer employees who live in expensive areas out of necessity a cost-of-living increase or supplement. Once you move elsewhere, you might not get the supplement anymore.
APPLY TODAY
resources
Downloadable Guides
We've created these guides to be a valuable resource to walk you step-by-step through your next adventure.

Make Your Next Move With Assurance Financial
Ready for a change of scenery or an upgrade to a bigger house? It's time to get moving! Assurance Financial can help you purchase your home. We've streamlined the mortgage application process and have made it quick and easy to do from the comfort of your home with the help of Abby, our digital assistant. If you're ready to make a move, it takes just 15 minutes to complete our mortgage application and get the ball rolling today.
Sources: