In the U.S., most of the population lives in urban areas. But for some people, living in a rural or country area is more appealing. If you prefer rural living over city life, a program from the United States Department of Agriculture (USDA) can help you buy a home. Every year, the USDA uses its Rural Development program to invest about $20 billion in helping families across the United States buy and improve their homes. The program was created to boost rural economies and improve quality of life.
Below we've mapped out an overview of the USDA Rural Development Guaranteed Housing Loan Program, explaining how it works and if you're eligible for loans.
Topics Covered
What Is a USDA Loan?
The USDA loan program is part of the department's single-family housing program. It aims to encourage the purchase of homes in rural or suburban areas by making mortgages easier for borrowers to obtain. Compared to conventional loans and other types of government-guaranteed loans, USDA loans have lower down payment requirements and lower income requirements. The loans also have strict income and location requirements.
USDA loans fall into several categories, with some only available to borrowers with the lowest incomes. The loans can be directly from the USDA or offered by private lenders and guaranteed by the department. The USDA's Rural Development program also offers grants to individuals who want to work on housing construction projects.
Although the goal of the USDA loan program is to make homeownership more available to a wider swath of buyers, there are certain requirements people need to meet before they are eligible for the loans. The USDA's programs have income limits and often have credit score requirements.

USDA loans are sometimes known as Section 502 loans. The mortgages seek to provide very-low to moderate-income buyers with access to sanitary, decent and safe housing in eligible areas.
Types of USDA Loans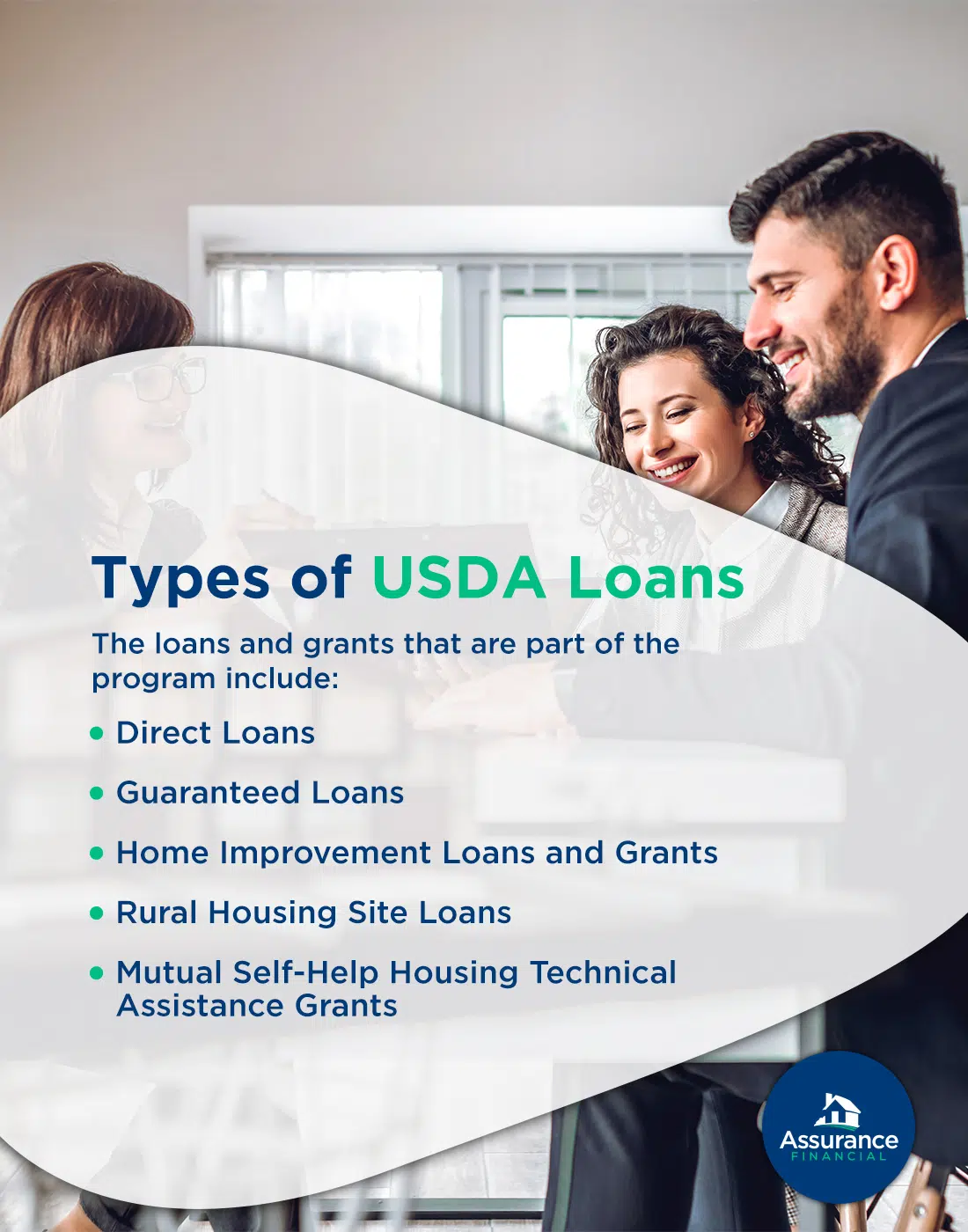 The USDA's Single-Family Housing program includes several types of loans that are made directly to borrowers, in addition to grants and loans made to organizations that help lower-income individuals purchase or improve their homes. The loans and grants that are part of the program include:
1. Direct Loans
These mortgages are designed to suit low- to very-low-income applicants. The income threshold varies by region, and with subsidies, interest rates can be as low as 1%. Direct loans come from the USDA, not from a private lender.
To qualify for a direct loan, a borrower needs to:
Have an income below the "low income" limit for their area.
Be in need of safe and sanitary housing.
Agree to live in the home as their primary residence.
Be legally able to take on a loan.
Be unable to get a mortgage through other means.
Be a U.S. citizen or eligible non-citizen.
Be allowed to participate in federal programs.
Be able to repay the debt.
The house a person buys with a direct USDA loan needs to meet several requirements, too. As of 2021, it needs to be less than 2,000 square feet and should be situated in a rural area with a population under 35,000. The value of the house needs to be less than the loan limit for the area. It can't be used for income-producing activities and can't have an in-ground pool.
Borrowers who get payment assistance can end up with rates as low as 1%. The USDA allows people to get direct loans with 100% financing, meaning they don't have to make a down payment. Although the repayment period is typically 33 years, there is an option to extend it to 38 years based on a borrower's income eligibility.
Since loans in the direct loan program come straight from the USDA, people who are eligible and interested in applying for one should apply directly through their local Rural Development office. The loan program is open year-round.
2. Guaranteed Loans
While direct loans come from the USDA itself, guaranteed loans come from private lenders. The loans are backed by the USDA, meaning that it will step in and pay if the borrower defaults on the loan. The lending requirements for a guaranteed USDA loan are slightly looser than the requirements for a direct loan.
Borrowers need to be U.S. citizens or eligible non-citizens. They need to meet income requirements, but the maximum income allowed is higher than for the direct loan program. Eligible borrowers need to earn no more than 115% of the median income in their area. As with the direct loan program, people who get a guaranteed USDA loan need to live in the home as their primary residence.
Location requirements are a little looser for the guaranteed loan program, as well. The location should be a rural area, but some suburban areas also qualify. Potential borrowers can put their address into the USDA's eligibility website to verify that it qualifies for a mortgage.
People who get a guaranteed loan from the USDA can get 100% financing, meaning no down payment is needed. The USDA will guarantee up to 90% of the loan amount. People can use the loans to buy, build or rehab a qualifying home.
3. Home Improvement Loans and Grants
The USDA loan program also includes loans and grants that help homeowners modernize, improve or repair their homes and grants that help older homeowners pay to remove safety and health hazards from their homes. Eligible homeowners need to earn less than 50% of the median income for their area.
As of 2021, the maximum loan amount is $20,000 and the maximum grant amount is $7,500. Homeowners who qualify for both a grant and a loan can combine them, receiving a maximum of $27,500. People who receive a USDA home improvement loan have 20 years to repay it. While the grants usually don't need to be repaid, if a homeowner sells their property within three years of getting the grant, they will have to pay it back.
Both grants and home improvement loans come directly from the USDA, and availability can vary based on area and time of year. Eligible individuals can apply for a loan, grant or both at their local Rural Development office.
4. Rural Housing Site Loans
While direct and guaranteed USDA loans are available to individual borrowers, the department also has loan programs for organizations that provide housing to low-income or moderate-income homebuyers. Eligible organizations include nonprofits and federally recognized tribes. The loans have term limits of two years and either charge a 3% interest rate or a below-market rate, depending on the loan type.
5. Mutual Self-Help Housing Technical Assistance Grants
USDA technical assistance grants are given to nonprofits or federally recognized tribes that help very-low and low-income individuals build their own homes. The homes need to be located in eligible areas and the people who will live in the homes need to perform most of the labor of building the houses, with some assistance from the organization. The grant money can be used to help recruit people to the program and to provide supervisory assistance to families, but it can't be used to fund the actual construction of the home.

Who Should Get a USDA Loan?
When you're buying a house, you have a lot of decisions to make, such as the location of your new home, its size and its amenities. You also need to choose the type of mortgage you get. Whether a USDA loan is right for you or not depends on a few factors.
The loans are designed to encourage people to buy homes in rural areas. But the USDA's definition of a rural area, at least for its guaranteed loan program, might be much broader than you think it is. Often, homes in suburban areas qualify for USDA loans. The only areas that are fully excluded are metropolitan or urban ones, so if you know you definitely want to buy in a city, the USDA loan program may be off the table for you.
Your income can also determine whether or not the USDA loan program is right for you. Buyers need to meet income limits, so as long as you qualify as a very low to moderate-income earner in your area, you may be eligible.
It can also be worth determining what other loans you qualify for, if any. Usually, USDA loan borrowers can't get financing through other means, such as a conventional mortgage or FHA loan. If that describes you, it may be worthwhile to seriously consider a USDA loan.
APPLY TODAY

Pros and Cons of a USDA Loan
While there are many benefits to a USDA home loan for the right applicant, these mortgages aren't for all borrowers. Let's take a closer look at the advantages and drawbacks of the loan program:
Pros of a USDA Loan
Some of the benefits of getting a USDA loan include:
100% financing available: Saving up for a down payment can be difficult, especially if a potential homebuyer earns just above or below the median income in their area. USDA loans let people get mortgages without putting any money down. The loans don't have private mortgage insurance requirements, which can help buyers save more. Since the USDA guarantees 90% of the loan note, the risk to lenders is reduced.
Open to very-low and low-income borrowers: Qualified borrowers need to earn 115% or less of the median income in their area to get a guaranteed USDA loan. The income limits for direct loans and home improvement loans and grants are even lower. The loans make it possible for people to buy a home who may otherwise struggle to get approved for a loan.
Open to borrowers who can't get other loans: In addition to opening up mortgages to people who don't have high enough incomes, the USDA loan program makes it possible for borrowers who aren't eligible for conventional or other types of home loans to buy a home. The loan program removes barriers such as down payments from the process.
Fixed-rate interest: The interest rate on a guaranteed USDA loan is fixed for the life of the loan. The fixed-rate offers stability to borrowers.
Long repayment period: USDA direct loans allow people 33 or 38 years to repay their mortgages. The 38-year term helps to ensure low-enough monthly payments for very low-income borrowers. Loans the USDA guarantees have a 30-year repayment term.
Cons of a USDA Loan
Some potential drawbacks of a USDA loan include:
Restrictions on the location: USDA loans aren't for people who want to live in cities or highly developed areas. The loans are exclusively for purchasing a home in rural or certain suburban areas. While the loans can't buy homes in places like San Francisco, Philadelphia or New York City, the total area that does qualify for a USDA loan is likely larger than you think.
Restrictions on housing type: USDA loans need to pay for a single-family residence. The direct loan program has more restrictions than the guaranteed loan program. Homes purchased with a direct loan need to be "modest in size" and can't have in-ground pools. For both types of loans, the borrower needs to live in the house they buy.
Loan limits may apply: Limits for a USDA loan are typically based on a borrower's income and how much they can repay. For direct loans, the price of the home needs to be below the limit set for the area. The limit is often about $285,000but can be more in areas with a higher cost of living.
resources
Downloadable Guides
We've created these guides to be a valuable resource to walk you step-by-step through your next adventure.
Who Qualifies for a USDA Loan?
Income limits to qualify vary by region and size of household. Consult the USDA map and table to find specific requirements for your location. The loan program only funds owner-occupied primary residences. You must be a U.S. citizen and have a dependable income to qualify.
Other qualifications include making a monthly payment that is 29% or less of your monthly income and good credit history. Metropolitan areas are excluded from the program. However, some suburban areas may qualify. Also note that you don't have to be buying your first home to get a USDA loan.

Income Qualifications
You'll need to provide proof of income to qualify for a guaranteed USDA loan. If you're self-employed or work as a seasonal employee, you need to provide two years of income records. People who have full-time or part-time, year-round employment only need to provide proof of income for one year. The income limit varies based on your location and how many people live in your home.
Asset Qualifications
Since the USDA loan programs don't require a down payment, you don't have to show proof of assets like you would when applying for a conventional loan. You won't have to verify that you have a down payment or that you have a sufficient amount of cash reserves when you apply for the loan.

Credit Qualifications
The USDA doesn't outline specific credit qualifications for the guaranteed or direct loan programs. People applying for a direct loan will have to demonstrate the ability to repay what they borrow, which can be based on their assets, income and other existing debt.
People applying for a guaranteed USDA loan also need to demonstrate an ability to repay the loan. The individual lender might also require a certain credit score, but the USDA doesn't outline any credit requirements.
In some cases, borrowers who don't have traditional credit might be able to use alternative forms of credit to demonstrate their creditworthiness and ability to repay to a lender. Non-traditional credit options might include rental payment history, auto insurance payment history or utility bill payment history. If you're considering applying for a USDA loan, your lender can provide you with more specific details about credit requirements.

Debt-To-Income Ratio
To keep people from borrowing more than they can comfortably afford to pay back, the USDA loan program has recommended monthly payment and debt-to-income limits for borrowers. If you get a USDA loan, the total amount of your housing payment shouldn't be more than 29% of your income before taxes. For example, if you earn $2,000 per month, your housing payment should be no more than $600. Your housing payment is more than just the principal and interest on the mortgage. It also includes:
Homeowners insurance
Property taxes
Homeowners association fees or dues
Rural Development annual fee
Your total debt-to-income ratio needs to be low, less than 41%, to qualify for a USDA loan. Your total monthly debt might include:
Student loan debt
Credit card debt
Car debt
If you earn $2,000 per month, no more than $820 of that should go toward debt payments, which includes your housing payments and any other loans you have.

Other Mortgage Options
For borrowers who meet income requirements and who want to buy in an eligible rural or suburban area, a guaranteed or direct USDA loan can be a great deal. It lets you become a homeowner without having to save up a hefty down payment and without having to have a high income.
It could be that you're not eligible for a USDA loan due to your income or where you want to live. In that case, you still have plenty of options available:
Conventional mortgage: You do have to make a down payment with a conventional mortgage, usually between 3% and 20%. If you put down less than 20%, you also have to pay private mortgage insurance premiums. Conventional mortgages tend to have stricter lending requirements than other options, meaning you typically need to have a very good or excellent credit score to get approved and to get the best rates.
FHA loan: An FHA loan is another type of government-backed mortgage. It's designed to help people with smaller down payments and less-good credit buy a home. You can put down between 3.5% and 10% to get an FHA loan, and you'll need to pay mortgage insurance for the duration of the loan.
VA loan: Like USDA loans, VA loansoffer 100% financing, meaning no down payment is needed. The loans are backed by Veterans Affairs and are only available to former or current members of the armed services and their widows.
Choosing the right mortgage is as important as choosing the right home. The right lender can help you weigh the pros and cons of each mortgage option so you choose the one that works best for you.

Apply for a USDA Loan With Assurance Financial Today
Does a guaranteed USDA loan seem like the right choice for you? Start your application with Assurance Financial today. Our virtual assistant, Abby, will walk you through the application process in just 15 minutes. Our online application streamlines the paperwork process, so there's no need to scramble to find the right documents. Get started today!
Linked Sources:
Ready to Get Started?
Home loans is our specialty. So if you're looking for the best home
loan experience, you've come to the right place.