Your Good Habits Could Pay Off
If you have good credit, a stable income, and can afford a down payment, a conventional home loan may be the right choice for you. Conventional loan rates may often be better since the borrower is seen as more financially stable. Other benefits include:

Option to eliminate mortgage insurance with a 20% down payment

A range of down payment options

Financing for almost all types of properties, from single- and multi-family homes to condominiums and even manufactured homes
Find out more about this program and eligibility from your Assurance Financial Loan Officer.
RESOURCES
Downloadable Guides
We've created these guides to be a valuable resource to walk you step-by-step through your next adventure.
How to Get Started
There are several ways to begin the loan process.
Explore all the loans we provide
Need help with your application? We're here to lend a hand.
Our easy digital application walks you through every step of the process in terms you can actually understand. Plus, we're always a phone call away if you get stuck.
start your application
Speak with an expert!
We have friendly experts to answer your questions. Find a loan officer licensed in your state.
Find A Loan Officer
Did we miss anything?
You still have questions, we still have answers. Take a look at what other people have been asking.
Read FAQs
There are many types of loans on the market. If you do not qualify for government-backed loans or you have strong credit and want additional flexibility, conventional loans may be an option. If you meet conventional loan requirements, you may be able to move into your own home.
What Is a Conventional Loan?
A conventional home loan is one that is not guaranteed or insured by the federal government. While qualifications may be stricter, there are more options with conventional financing than with many government-insured home loans. Conventional mortgages can be used for refinancing, and they also may allow you to buy with as little as 3% down.
Conventional loans offer some advantages. Where these loans may require larger down payments, you could end up paying less per month because you have put more toward the cost of the home. In addition, there are many types of conventional mortgages, so you can compare to find one that suits your finances. This type of financing is quite flexible and can be used to purchase a first home, vacation home, second home, condo, cottage, townhouse and other types of properties.
For many homebuyers, conventional mortgages offer several benefits. They tend to have more attractive terms when compared with government-backed or jumbo loans. You can choose terms of 10, 15 and even up to 30 years, which can allow you to adjust how much you pay each month. By choosing shorter terms and adjustable rates, you can build up equity in a home where you do not expect to stay for long. By choosing a longer term, you can enjoy lower monthly costs for a home where you expect to live for some time.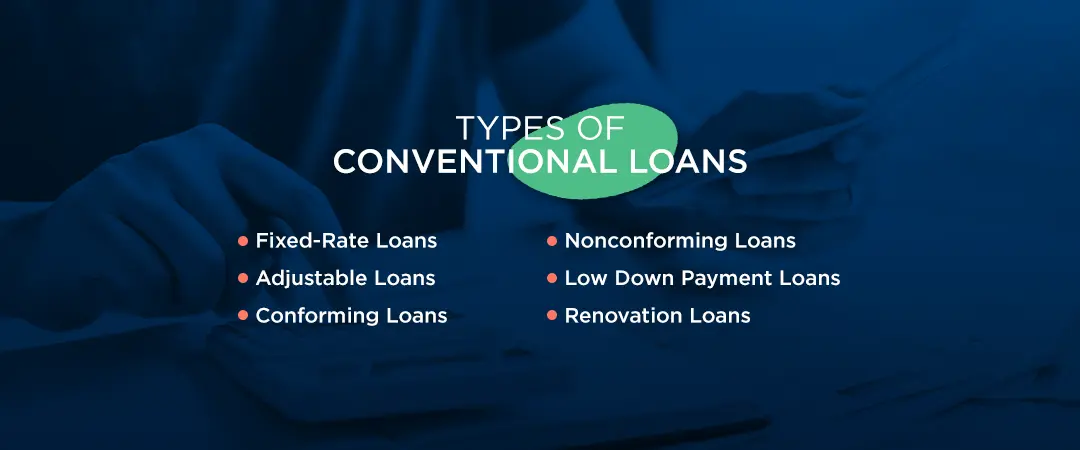 Types of Conventional Loans
Conventional home loans come in a few different types. Consider your options carefully so you can choose the one that best fits your circumstances and financial goals.
1. Fixed-Rate Loans
With all types of mortgages, you'll need to pay interest each month on the loan amount. With a fixed-rate loan, the interest stays the same for as long as you have the mortgage. Many buyers choose 30-year fixed-rate loans because spreading the mortgage payments out over three decades makes the payments more affordable. You can also choose shorter terms to pay off your mortgage more quickly.
2. Adjustable Loans
Adjustable loans have interest rates that change over time. These loans usually start with a low fixed-rate period of three, five, seven or 10 years. After that period, they adjust annually to match the current market rates. Adjustable loans may be ideal for people who plan to pay off their mortgages before the low-rate period expires.
3. Conforming Loans
When it comes to conventional mortgages, you also have the option of choosing between conforming and nonconforming home loans. Conforming mortgages abide by the rules set by two government agencies, Fannie Mae and Freddie Mac, which offer money for the housing market across the country.
Conforming conventional mortgages have specific limits set by Fannie Mae and Freddie Mac on their size. This means that in most home markets, you cannot get more than $484,350 in financing from a conforming mortgage. In some markets where housing prices are higher, you may be able to secure conforming conventional home loans of up to $726,525. Fannie Mae and Freddie Mac also set guidelines for credit score and other requirements used when evaluating a borrower's eligibility for a loan.
4. Nonconforming Loans
Nonconforming loans do not have to meet the federal standards for conforming loans. If a loan amount exceeds the Federal Housing Finance Agency (FHFA) standards or otherwise fails to meet Fannie Mae and Freddie Mac underwriting standards, it is a nonconforming loan. One common type of nonconforming loan is the jumbo loan, which is often necessary to finance a home purchase of more than $484,350.
If you need to borrow more than the Fannie Mae and Freddie Mac limit to buy your dream home, a nonconforming loan may be an option. Nonconforming loans do not need to abide by the rules of Fannie Mae and Freddie Mac, so they are available if you do not qualify for a conforming loan. However, since the risks are higher for lenders, the rates may be less competitive.
5. Low Down Payment Loans
Some loans offer very low down payments. The traditional rule of thumb was that buying a home required a down payment of 20% of the home's price. Today, the requirements have become more flexible, and lower down payments are common — even as low as 5% or 3%.
6. Renovation Loans
Renovation loans are ideal for scenarios in which you want to save money by buying a fixer-upper home and need additional financing for the home repairs. Renovation loans allow you to finance the home purchase and renovations simultaneously.
How to Qualify for a Conventional Mortgage
Every home buyer is different, which is why Assurance Financial pairs you with a local loan expert who can discuss loan options and your goals for homeownership. Whether you are buying a vacation home, first home, rural property or want to refinance or renovate, there are mortgage products designed for you.
If you decide conventional home financing is right for you, here's how to qualify for a conventional mortgage:
Have a down payment or equity in the home: How much down payment do you need for a conventional loan? On some conventional mortgages, you only need a down payment of 3% — although your circumstances will determine how much you need to put toward the home if you are purchasing versus refinancing. If you pay at least 20% in a down payment, you may not need to pay for mortgage insurance.

 

By meeting special, stringent qualification requirements, you can sometimes reduce your down payment to zero, though doing so can be risky because it will take you longer to build equity in your home and pay off your mortgage.
Have the ability to prove income: You need to show you can pay for your mortgage. Your lender will want to see proof of income, so you may wish to bring in proof of your total monthly expenses, your pay stubs, your tax assessments, information about where you have lived and worked and any other paperwork which shows you can pay the mortgage payments monthly. Your lender can tell you what documentation you need. If you apply for a home loan with Assurance Financial online, you can skip this step. Our virtual assistant will guide you to log into your bank and payroll, so you can verify your information without having to fax in reams of paper.
Have assets: It can be helpful if you can show you have other assets, such as savings, investments, other property or retirement accounts. Your assets need to cover your closing costs and down payment, at minimum.
Have a history of paying loans on time: Lenders look at your credit score, and having a higher credit score can help you get approved for a loan and secure a better rate.
The Ideal Conventional Loan Credit Score
There is no set conventional loan credit score or specific number you need to have to start applying for a home loan. Every home buyer is different. However, you may want to aim for a credit score of at least 680 and ideally a score of 700-720 or higher.
If you are concerned about your score, you can work on improving it. Paying your bills on time and paying down your debt can help you improve your score over time. Order a copy of your score to see how much work you might want to do before you apply.
Additional Conventional Loan Requirements
A few additional conventional home loan requirements your lender will consider include:
Your debt-to-income ratio: Your lender will want to see how much of your income is taken up with debt. Your ratio should not be higher than 43%, and the lower your debts the better your chances of securing financing.
What you are buying: Conventional loans can be used for a condo, single-family house, duplex, properties with up to four units and townhouses.
How you will use the property: Homes purchased with conventional loans can be used as a primary residence, secondary residence, vacation home or rental.
The property value: Your lender will not approve a loan amount higher than the property value of the house you want to buy. You will likely need to have an appraiser determine the home's value and see whether it differs substantially from the list price.
Mortgage insurance: Many conventional mortgage requirements include insurance requirements. If you plan to put down less than 20% of the home's price as a down payment, you will likely need to purchase private mortgage insurance (PMI) before you can get a loan. Having mortgage insurance helps reassure the lender that it will receive money even if you default on your mortgage payments.
Can I Get a Conventional Loan?
For many homebuyers, a mortgage is a huge decision. If you are considering buying a home, it could be your largest monthly expense and your biggest asset. If you are wondering whether you qualify for a loan, you do not have to wonder any longer.
Assurance Financial lets you find out in just 15 minutes whether you qualify. There is no cost and no obligation to get answers. Work with Abby, your virtual assistant, and fill out the simple forms. Or, if you prefer to speak with an actual person, contact a loan officer near you today to get customized advice.
How to Get a Conventional Loan From Assurance Financial
Assurance Financial makes the process of securing a loan simple and fast. You can pre-qualify in 15 minutes online or by speaking with a loan officer, and we will give you your free quote on a rate. Once you are ready to buy, simply fill out our full application.
Assurance Financial takes care of end-to-end processing in house — we don't send your mortgage or underwriting somewhere else. This allows our process to be timely and ensures we have answers. Once processing is complete, you close your loan by signing with a notary. We walk you through the process so you can focus on moving.
To get started, apply online with Abby or reach out to a local loan officer today.
Additional Resources You May Also Like