Not every potential homeowner qualifies for a conventional mortgage — and that's okay. Several mortgage programs exist that help people buy a home, even if their credit isn't the best or even if they don't have a large down payment saved up. If you are hoping to buy a home soon, but aren't sure that you'll qualify for a conventional mortgage, it can be worthwhile to look at government-backed home loan options, such as a VA loan or FHA loan.
While both have less-strict requirements for borrowers compared to conventional loans, there are some differences between FHA and VA loans. Some people might qualify for an FHA loan, but not a VA loan, for example. Another notable difference between a VA loan and an FHA loan is the size of the down payment. In this guide, we'll discuss what's required of each, so you can determine which one might be right for you.

FHA Loan Requirements
The Federal Housing Administration (FHA) loan program has been around since 1934. Its goal is to help as many people as possible buy a home. Under the program, mortgages are made by the same lenders and banks who issue conventional mortgages. Unlike conventional mortgages, the amount of an FHA loan is backed or insured by the government.
If the borrower stops making payments, the FHA will step in. Since the government insures the loan, lenders can feel comfortable offering mortgages to people who don't have excellent or very good credit. Lenders can also offer a relatively favorable interest rate to an FHA borrower, even if the borrower isn't making a large down payment or doesn't have the best credit.
FHA loans aren't available to everyone, though. A borrower does need to meet a few requirements before they can get approved from an FHA mortgage. For example, they need to have a credit score of at least 500. The down payment on an FHA loan can be as little as 3.5 percent of the price of the home, but to put down less than 10 percent, a person's credit needs to be at least 580.
Another notable requirement of an FHA loan is mortgage insurance. While the government's guarantee does make mortgages possible for more people, the guarantee isn't free. Borrowers need to pay mortgage insurance on the loan, in addition to the principal and interest. FHA mortgage insurance comes in two forms.
The first is an upfront payment of 1.75 percent of the loan's value. The second is an ongoing monthly payment ranging from 0.45 to 1.05 percent of the value of the loan. The amount of the monthly payment depends on the size of the down payment and the length of the loan.
The monthly mortgage insurance premium would be for the entire length of the FHA loan unless the down payment was 10 percent or higher. If a borrower puts down more than 10 percent of the value of the home, they will need to pay a mortgage insurance premium for 11 years.

VA Loan Requirements
Like the FHA loan program, the VA loan program is a government-insured mortgage program. Also, like FHA loans, VA loans are made by private lenders and banks. However, in the case of VA loans, The Department of Veterans Affairs backs or insures the loans. VA loans have lower down payment requirements compared to conventional mortgages and FHA loans. In some cases, an eligible borrower can get a VA loan without a down payment. About 90 percent of VA-backed loans are issued without the borrower making a down payment.
There isn't a published minimum credit score that a person needs to have to be eligible for a VA loan. Instead, a lender typically reviews applications for VA loans on a case-by-case basis.
The most notable requirement of VA loans is that the person is either a veteran or active-duty service member or a member of the National Guard or Reserve. How long a person needs to have served varies based on when they served or if they are currently on active duty. In some cases, the length of service requirement doesn't need to be met if a person was discharged for a qualified reason. Surviving spouses or spouses of prisoners-of-war or veterans who are missing in action might also be able to qualify for a VA loan.
To prove eligibility, a veteran or active duty service member needs to apply for a certificate of eligibility.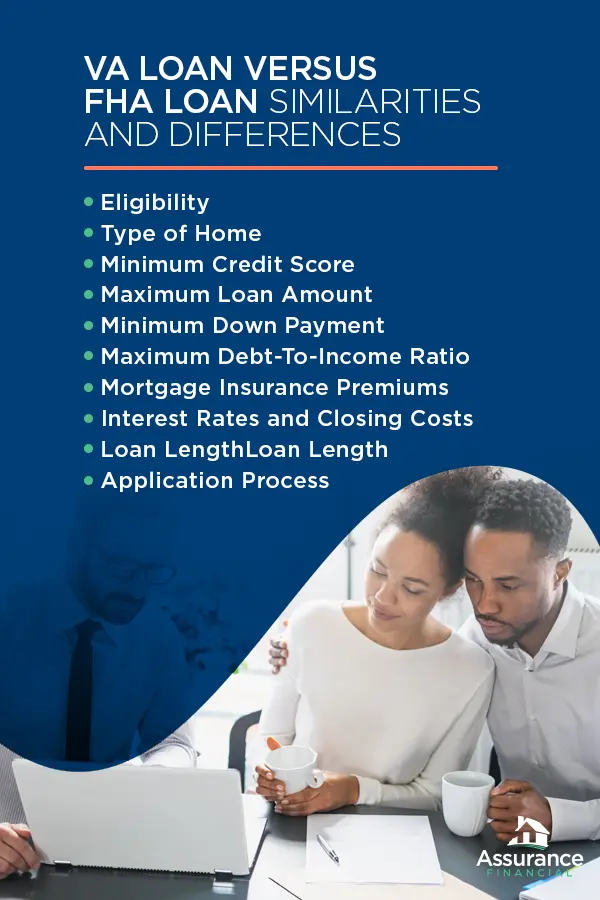 VA Loan Versus FHA Loan: Similarities and Differences
If you're shopping for a mortgage, it can be helpful to take a close look at how FHA loans compare to VA loans. If you're eligible for both, understanding the differences between the two can help you narrow down your home loan options.
1. Eligibility
The most important difference between a VA loan and an FHA loan is eligibility. You can only get a VA loan if you are currently or have been a member of the armed forces or if you're a surviving spouse of a veteran or POW. You also need to meet the length-of-service requirements.
FHA loans aren't restricted to a certain type of person or a certain group of people. You do need to have a Social Security number to be eligible for an FHA loan.
2. Type of Home
For both an FHA loan and a VA-backed loan, the home you purchase needs to be the home you'll live in as your primary residence. You can't use either loan to buy a vacation property or investment property.
You can use an FHA loan or VA loan to purchase a home with one to four units.
One common misconception about both FHA and VA loans is that they are only for first-time homebuyers. While both types of mortgages can be a great choice for a first-time buyer, there are no rules that restrict the loans to first-timers only.
3. Minimum Credit Score
One difference between FHA and VA loans is the credit score required. For an FHA loan, you need to have a credit score of at least 500. If your score is between 500 and 579, you'll have to put down 10 percent to qualify for the mortgage. If your score is at least 580, your down payment can be as low as 3.5 percent.
The VA loan program doesn't have a minimum score requirement. It encourages lenders to look at the full picture, including a borrower's credit history, employment history and assets, when making a decision.
4. Maximum Loan Amount
The VA and FHA loan programs have different maximum amounts. The VA loan limit is the same as the limit for conforming conventional mortgages. The exact amount of the limit varies based on the number of units in the home and the location of the property. Homes in areas with a higher cost of living have higher mortgage limits compared to homes in areas with a lower cost of living.
Borrowers who qualify for a VA-backed loan are eligible for an entitlement, which is the amount the VA will pay to a lender if a borrower ends up defaulting on the loan. The VA has two types of entitlement:
Although VA entitlement limits how much the VA insures, it doesn't necessarily restrict how much you can borrow. If you have the means to make a down payment, you might be able to borrow more or buy a more expensive home.
The maximum amount of an FHA loan is based on the location and size of the home. A one-unit home in an area with an average cost of living can cost up to $331,760. A one-unit home in an area with a high cost of living can cost up to $765,600.
5. Minimum Down Payment
One of the features of the VA-back loan program that makes it so appealing to eligible borrowers is that often, a down payment isn't required. The minimum down payment for an FHA loan is 3.5 percent.
6. Maximum Debt-To-Income Ratio
The debt-to-income ratio compares the amount of your monthly debt to the amount of your monthly income. You can calculate it by dividing your total monthly debt payments to your total monthly income. For example, if you pay $1,000 toward a credit card and student loan payment each month and you earn $4,000 a month, your debt-to-income ratio is 25 percent:
1,000/4,000 = 0.25 (25%)
When deciding to approve or deny a mortgage application, a lender will look at your total debt-to-income ratio to see if the amount you want to borrow will be too much of a burden or too challenging for you to pay.
For most mortgages, including an FHA loan, the maximum debt-to-income ratio is 43 percent. There are some exceptions, though, and some lenders might accept a borrower with a debt-to-income ratio as high as 50 percent.
VA loans don't have a maximum debt-to-income ratio, but a ratio of 41 percent or lower is often preferred.
The lower your debt-to-income ratio, the more comfortable you're likely to be making your mortgage payments and affording other expenses. Although you can go up to 50 percent for an FHA loan, you might not want to do so.
7. Mortgage Insurance Premiums
Another major difference between an FHA loan and a VA loan is the mortgage insurance premium requirement. FHA loans require you to pay both an upfront mortgage insurance premium and a monthly premium. Unless your down payment is 10 percent or higher, you'll need to pay the monthly premium for the entire term of the loan.
In contrast, VA loans don't have mortgage insurance. They do have a one-time funding fee, which you pay upfront. The funding fee ranges from 1.4 to 2.3 percent and is based on the size of your down payment.
8. Interest Rates and Closing Costs
VA loans tend to have lower interest rates than conventional mortgages or FHA loans. Additionally, the closing costs on VA loans tend to be lower than for other types of mortgages. While VA loans have fixed interest rates, FHA loans can have fixed or adjustable interest rates.
9. Loan Length
One thing VA and FHA loans have in common is that both are available in a range of terms. Depending on your budget and needs, you can apply for a 30-year FHA loan or a 30-year VA loan. The mortgages are also available in 15-year or 10-year terms.
10. Application Process
Both VA and FHA loans require you to apply and to submit documentation and paperwork to verify your identity and income. You can expect to submit paystubs, income tax returns, bank statements and proof of other debts when you apply. Requirements can vary from lender to lender.
resources
Downloadable Guides
We've created these guides to be a valuable resource to walk you step-by-step through your next adventure.
FHA vs. VA Home Loan: Which Is the Right Loan for You?
Since VA loans are only available to qualified veterans or active-duty service members, if you don't have a history of service in the armed forces, you most likely don't qualify for a VA loan. But even if you are a veteran or active-duty service member, you might still be wondering whether an FHA or VA loan is better for you.
One thing to consider before you apply for either is how much you can afford to put down. If you don't have much saved for a down payment, or any money saved up, a VA loan might be the better choice. A VA loan can also be less expensive in the long run, as it doesn't require mortgage insurance, and the closing costs and interest rates are often lower, compared to FHA or other loan options.
Your credit is another thing to consider when deciding between an FHA or a VA loan. While VA loans don't have specific credit requirements, a lender might expect a person applying for a VA loan to have a good credit score. If your score is lower than 580, the FHA loan program might be a better choice, provided you have at least 10 percent saved for a down payment.

Find out If You Qualify for a VA or FHA Loan Today
Ready to jump in and get started with the process of finding the right mortgage for you?
Learn more about what you need to get started today.
Sources:
Ready to Get Started?
Home loans is our specialty. So if you're looking for the best home
loan experience, you've come to the right place.