Understanding VA Loans – Advantages and Eligibility Requirements Defined  
As a military veteran or active service member, you might be curious about getting a Veteran Affairs mortgage – or VA Loan. These mortgages usually do not require a down payment, and are guaranteed by the Department of Veterans Affairs, which means that they do not require mortgage insurance.
So, what do you need to get a VA loan? Here are five things you need to know about the Veterans Affairs mortgage program.

1. Eligibility
If you are, or have been, a member of the military, reserves or National Guard you're more than likely eligible to apply for a VA loan. Spouses of military members who've died while on active duty, or as a result of a service-related disability, may also apply for this program.
Generally, after six months of service, active duty members become eligible to apply for the VA loan. Reservists and members of the National Guard have to wait six years to apply; however, if they're called to active duty before the six years are up, they're eligible after 181 days of service.
Potential borrowers must obtain a certificate of eligibility. This form can be filled out online; however, you do not need the certificate in hand to start the process.
During the pre-approval phase, lenders can get this document for borrowers.

2. Advantages of a VA Loan
The VA loan program helps those qualified get a piece of the American Dream without having to come up with a sizable down payment. It requires no mortgage insurance and no pre-payment penalties, and offers competitive interest rates. These VA benefits translate into significant savings for VA loan borrowers.
The misconception about the program is that it is a one-time benefit. In fact, that is not the case. Once earned, a borrower can take advantage of this type of loan throughout their life.

3. Fees
Even though the costs of getting a VA loan are generally lower than conventional loans, they still carry a funding fee that varies, dependent on whether the borrower is a veteran of the military, Reserves or National Guard. Other factors are active duty vs. veteran, length of service, has the person opened a VA loan before and the amount of the down payment.
For example: A first-time VA loan borrower, with a zero-down payment, would pay a 2.15 percent fee on the loan amount. The fee is reduced if the borrower makes a down payment of 5 percent or more.
In general, members of the National Guard and reservists will pay approximately a quarter of a percentage point more than active-duty members pay. If you receive any type of disability compensation, the loan fees are waived.
Funding fees vary widely, from 0.5% to 3.3% of the loan amount, depending on the veteran's service and loan type.

4. Underwriting Requirements
The VA does not require a minimum credit score when applying for a VA loan; however, because the loans are through private lenders they generally have their own requirements. Most lenders want borrowers with a 620 credit score, or higher.
Borrowers with a lower credit score may be granted a loan, but will likely have a much higher interest rate. When applying for the VA loan, borrowers must show that they have sufficient income to repay the loan, with no excessive debt. However, these guidelines are usually more flexible than they are with conventional loans.
VA loans are only available to finance a primary home, and are not to be used to purchase or refinance vacation homes.
According to the VA there is no cap on the amount you can borrow; however, there are limits on the amount of liability the VA will assume. These limits depend upon the county/parish you live in, because the value of the house depends greatly upon its location.

5. What if I stop paying the mortgage?
Another big advantage to the VA loan system is that they offer assistance to struggling borrowers. If the VA loan borrower cannot make payments on the mortgage, the VA will renegotiate with the lender on behalf of the borrower.
The VA counselors are there to help borrowers figure out their repayment plan, modify their loans and do whatever they can to help you avoid foreclosure.

How Do I Apply for a VA Loan, and What Are the Requirements?

Veterans and active members of the United States armed services do a great service for their country, and in return, they deserve our nation's respect and recognition. One way to display this appreciation is through programs granting benefits to these brave men and women.
The veterans loan program provides veterans and active duty service members an achievable path to homeownership. VA loan guidelines offer veterans as well as many members of the U.S. military and their surviving spouses the opportunity to apply for home loans that do not require down payments. Through these programs, they can achieve their dream of homeownership.
Are you a veteran, armed service member or spouse of a veteran or armed service member? Then you may qualify under the veterans loan program requirements.

APPLY TODAY
What Is a VA loan?
A VA loan is a mortgage loan program administered by the United States Department of Veteran Affairs (VA) for members and veterans of the U.S. armed services. The purpose of the VA loan is to provide financing options for veterans and military spouses looking to make down payments on new homes. To qualify for a VA loan, you must meet one of these basic qualifications, which we'll explain more in-depth below:
Served at least 181 days on active military duty during peacetime
Served at least 90 days on active military duty during wartime
Served at least six years as a National Guard or Reserves member
Be married to someone who died while serving or who died of injuries sustained while serving
What Are the Benefits of a VA Loan Vs. a Conventional Loan?
VA loans are more accommodating and less stringent than most conventional loans offered by lending banks. The VA loan program provides an opportunity for veterans to own their own homes, even on a limited budget. If you qualify for the loan, you could move into a home even if you lack the funds for a large down payment.
VA loans are offered to those who qualify at competitive interest rates with zero pre-payment penalties. Once an applicant earns a VA loan, the benefits last for the life of the loan. Applicants who are approved for the VA can use the loan to purchase a primary residential property.
As of 2019, the maximum guaranty for most VA loan rates is $484,350. However, the limit can vary by county, and select areas will guarantee costs as high as $726,525. Even though VA loans are primarily intended for borrowers who wish to purchase homes, a VA loan can also be used for other purposes, such as:
Cash-out financing
Adapted housing grants
IRRLs
resources
Downloadable Guides
We've created these guides to be a valuable resource to walk you step-by-step through your next adventure.
Who Qualifies for a VA Loan?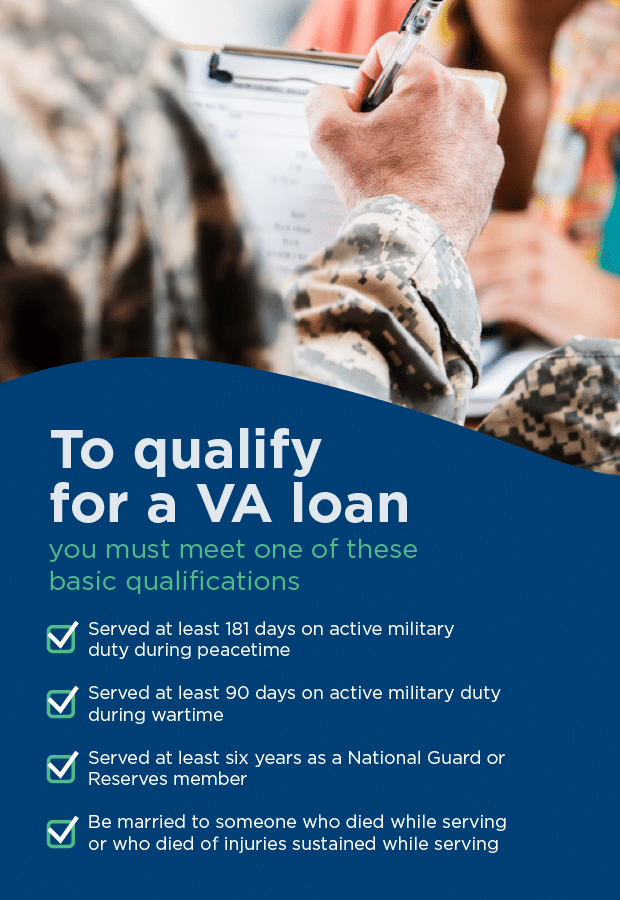 The VA loan is a mortgage that honors Americans who have served for a minimum time in the armed services. If you currently serve in the United States armed services or have done so on the past, you are most likely eligible for the VA loan. If you are the widow or widower of a fallen member of the armed services, you too could apply for the loan. You can apply if you are now disabled due to injuries sustained while on active duty.
The VA loan is also available to civilians registered with the National Guard, though you must be registered as a reservist for a minimum of six years to apply for the loan. If, on the other hand, you are summoned for active duty within that six-year timeframe, you will be eligible to apply for the loan after 181 days.
In order to be approved for a VA loan, you will need to present a certificate of eligibility, which can be obtained by filling out a form online, by mail or in person by speaking with a lender. As you wait for the certificate to arrive, you can proceed with the VA application.

For those who have spent the requisite time in the U.S. armed services, the only issue that would disqualify you for the VA loan is a dishonorable discharge. If you were relieved of duty for breaking military conduct codes as an active service person, your application for a VA loan likely will be rejected.

What Are the VA Loan Requirements?
A VA loan can only be used to finance the purchase of a home that will serve as your primary address. VA loans cannot be used to finance the purchase of secondary properties and vacation homes. The VA will only accept a certain level of liability for your borrowing. Liability limits vary by zip code and the value of properties in a location.

Are There Any VA Loan Income Requirements?
There are no income requirements for applicants. If you are accepted for the VA loan, you will not be required to meet a minimum income level to receive the benefits. That said, you will be expected to earn enough money to cover your monthly fees.
What Are Other VA Loan Eligibility Requirements?
Even though the requirements for VA loan eligibility are basic and accommodating, a private mortgage lender who finances the purchase of your first home might have a different set of requirements. Some lenders, for example, require all applicants to have good credit when applying for a mortgage.
These same lenders might also require you to meet a minimum income level or hold a job for some length of time before qualifying you for a mortgage. During the application steps for the VA loan, a mortgage broker might examine your credit score and your debt-to-income stats.

What Is the Minimum Credit Score for a VA Loan?
The majority of mortgage lenders require borrowers to have a credit score of 620 or higher. If your credit score is lower, you can still get approved by some lenders, but they will generally require you pay a higher interest rate. When you apply for the VA loan, you need to prove to the lender that your current income will allow you to pay off your fees in a timely manner.
This assures the lender you will ultimately pay off the loan without incurring debt. Despite these thresholds, the lender requirements are generally less stringent than if you applied without a VA loan.

First-Time Homebuyers Using VA Loans
For first-time homebuyers, VA loans offer numerous advantages over conventional loans. As a first-time buyer, you might not have enough money saved to make a down payment on a home. With the VA loan, you could get a house with zero money down. The VA loan will also relieve you from the private mortgage insurance (PMI) requirement that is often imposed on first-time buyers who use conventional loans.
The VA loan program is designed with an understanding that most first-time homebuyers have small or non-existent credit histories. Therefore, the credit requirements are generally more relaxed for first-time buyers under the VA loan. You can also receive a VA loan first-time home buyer tax credit when you use this type of loan.

Can I Get a VA Loan After Foreclosure?
VA loans are generally lenient regarding the past financial difficulties of applicants. As such, you can qualify for a VA loan even if you recently have filed for bankruptcy or had a home foreclosed on:
If you have filed for Chapter 7 bankruptcy, you could be eligible for a VA loan after 24 months.
If you have filed for Chapter 13 bankruptcy, you could be eligible again for a VA loan after 12 months. If your last home was subject to foreclosure, you could apply for a VA loan after 24 months.

The VA provides one of the easiest opportunities to own a home again after you have lost one due to financial hard times. In the two years you spend recovering from a foreclosure, you could save and stabilize with a new source of income while renting or staying with relatives. Once the two years have passed, the VA could offer you more generous terms than any prior loan you might have taken from a lending bank.

Assuming a VA Loan After Death
If a VA loan borrower dies while the plan is active, their spouse will assume any applicable debt. If the VA loan borrower is unmarried and has no co-borrower at the time of death, the loan will be assumed by the borrower's estate. Surviving spouses can take action with the Department of Veteran Affairs and inquire about refinancing loan options.

Fees & Rates for VA Loans
In contrast with most conventional loans, the fees associated with a VA loan are relatively low. The funding fee may depend whether you registered with the military or National Guard and whether you are a veteran or an active service person. The amount of your down payment and any history of prior loans will also affect your fees. A first-time borrower fee on the VA loan amount would be 2.15 percent if you make no down payment.
If you are a former member or current reservist with the National Guard, you will pay one-fourth of a percentage more than those currently active with the service. If you receive compensation payments for a disability sustained while on service, your loan fee will be waived.

What Are VA Home Loan Funding Fees?
Despite the relatively low cost of VA loans, you need to pay a one-time fee, as determined by the category of your military service. Since there is no down payment required, the fee is designed to alleviate the burden on taxpayers. The standard fee of 2.15 percent on the loan amount can be reduced to 1.25 percent if you make a down payment of at least 10 percent. If you obtain a second VA loan and make no down payment, your fee would amount to 3.3 percent of the loan amount.

Do VA Loans Require PMI?
In contrast to most competing mortgage low-down payment options, you could be accepted for a VA home loan without private mortgage insurance (PMI). PMI is generally necessary on basic loans from the Federal Housing Administration (FHA loans) and other lenders that offer a merely one-fifth or less on the mortgage of a home. To learn more about FHA loans and requirements, check out our detailed FHA loan guide.
The costs associated with loans that require PMI can leave homeowners strapped with high costs over the course of a residential occupancy. For example, a borrower who places a down payment of 3.5 percent on a property valued at $200,000 would pay a monthly mortgage insurance premium of $100. By contrast, VA borrowers are not required to pay that.

What If I Stop Paying the Mortgage?
If you are currently struggling to make your mortgage payments, the VA could help you renegotiate terms with your lender. For example, if you were recently laid off or given a reduced working schedule and your monthly income has decreased, the VA can help you obtain a more flexible set of terms.
This way, you can pay your premiums at a reduced rate for the duration of your lean period. The VA can help you avoid foreclosure and manage your payments during times when it would otherwise be impossible to stay afloat and make ends meet.

What Can I Expect From VA Loans? What Am I Responsible For?
In a VA loan, the entitlement is the amount of money guaranteed to the borrower. The basic entitlement of a VA loan is $36,000 on a house. As real estate prices escalate, however, vast numbers of prospective homeowners are forced to contend with prices that exceed $144,000 or the maximum loan for a basic entitlement. For prices in excess of this limit, the bonus entitlement applies.
During 2018, the median sales price of new homes ranged from $310,500 to $335,400, making it necessary for VA loan holders to opt for the bonus entitlement. The bonus entitlement amount is set by the VA using limits established by the Federal Housing Finance Agency (FHFA), which set 2019 loan limits at $484,350 for most locations.
The higher limit of $726,525 — 150 percent of the basic limit — has been established for properties in some of the nation's pricier communities where a basic loan would not suffice. As a qualified borrower, you would be awarded 25 percent on the mortgage for a home that meets the 484k limit. Therefore, you would get $121,087 down on a $484,350 home. The basic entitlement of $36,000 would then be subtracted from that $121,087, giving you a bonus of $85,087 in entitlement loans.
VA lenders will often loan borrowers an amount that quadruples the entitlement, turning that $85,087 amount into $340,350. When you add your basic VA entitlement of $144,000 to that $340,350 amount, you get a new limit of $484,350 in accordance with the FHFA's 2019 loan limit.
If you live in one of the costlier states or counties, the entitlements are bigger to account for the higher real estate prices. Therefore, the VA will increase the loan to one-fourth of the extra limit of $726,525. That is as high as it gets with the VA loan. Anything above that amount will not be covered by a VA loan. If you find a home listed for $950,000 in one of the costlier areas, the VA will only cover one-fourth of the $726,525.

You can use an entitlement more than once, providing you still have a portion of that entitlement remaining once you purchase a home. The premiums of your mortgage and the loan limits of your county could affect your options in this regard. The purpose of the VA loan is to assist you in owning a home after you or your spouse has met the requirements of service in the U.S. military or National Guard. Therefore, the price on a home in a costly community should never deter you from exploring the VA option.

What Are the VA Home Loan Rates?
VA loan rates — the interest that you will pay on a loan over the course of your plan — will depend on the length of your loan and the lender you choose. Loan rates vary by lender.

How Do I Apply for a VA Loan?
If you fit the profile of a VA loan applicant, the only thing you will need to furnish in order to qualify is a certificate of eligibility (COE). The COE is a document that verifies the dates when you began and completed your service in a branch of the U.S. military. There are three ways to apply for the COE:
Request the certificate from your mortgage lender, who should be able to access the database and quickly furnish your COE.
Submit an application for the COE yourself on the VA website at VA.gov. You will need to set up an account if you have not done so already and fill out your application from there.
To print out a paper application, fill out the pages and send the application off in the mail. You can obtain the document for printing purposes at the VA website.
As soon as you obtain your certificate of VA loan eligibility, you can submit an application for a VA loan. The steps involved in the application are relatively simple and easy to understand, though not all mortgage lenders offer VA loans.

Interest Rates: Are They Different or the Same When You Refinance Loans?
Homeowners refinance home loans to secure better interest terms and rates. As a VA loan holder, you could reduce your interest rates through the Interest Rate Reduction Refinance Loan (IRRRL) program. In order to qualify for the IRRL, you would need to refinance your pre-existing VA loan with a newer one. With the IRRL, you do not need credit or underwriting to qualify, nor would you pay any money up front. Basically, your pre-existing fees are usurped by a new VA loan and the interest is modified to cover the lender's expenses.
VA Loan Refinancing
The streamline refinance option, or IRRRL, is one way VA borrowers can refinance a home to secure lower interest rates. Another way to refinance a home on a VA loan is with the cash out option, where you tap into the equity on your property to get cash for home improvements, emergency repairs, debt payoffs and other purposes.

Are There VA Loan Home Occupancy Requirements?
Once you secure a home through a VA loan, you will probably be required to move into that residence within two months of the purchase. The VA wants approved borrowers to use the program for primary residences, asking that you settle into your new address within eight weeks of purchase.
Exceptions may apply in certain cases where the applicant cannot move into the new house at the time of purchase. For example, if a married VA holder is deployed at the time of purchase or during the weeks that immediately follow, the spouse can occupy the house on the holder's behalf.

Apply for a VA Loan With Assurance Financial
The veterans loan program has brought a major piece of the American dream into the hands of those who have served in the U.S. military. Millions of Americans who may not otherwise have considered owning a home flock to this program to harness this opportunity.
If you or your spouse has served six months in the military or six years in the National Guard, you could qualify for a VA loan and move into a generous and comfortable new home. Instead of making do with a small rental, you could own a house with a back yard, a green lawn and several trees on the property.

At Assurance Financial, we help loan applicants realize a piece of the American dream by making homeownership a more affordable prospect. If you or your spouse is a veteran or active service person and you are currently in the market for a new home, Assurance Financial can help you find a loan option suitable for your situation.
As a qualified VA lender, we've helped thousands of veterans, active service members and their families take advantage of their earned VA benefits. Contact one of our Home Loan Experts today to learn more!