During home shopping, most homebuyers want to know whether the current housing market is a seller's market or a buyer's market, along with how to get a good deal in a seller's market. Though certain seasons tend to be busier, fluctuations in the housing market are more likely influenced by supply and demand than the season. As such, it's essential for buyers to be aware of the state of the housing market and whether the area is currently experiencing a seller's market or a buyer's market.
To help you navigate the homebuying process, we cover how to identify whether you're shopping in a buyer's or seller's market, what the current housing market is in 2022 and how to negotiate buying a house in a seller's market.
Buyer's vs. Seller's Market
The housing market is either a buyer's market or a seller's market. These terms mean that the market either favors buyers or sellers.

What Is a Buyer's Market?
When the supply of properties exceeds demand, this is known as a buyer's market. When many homes are available for purchase yet there is a low number of interested buyers, buyers have an advantage. A buyer has leverage over the seller because there is less competition over a home.
In a buyer's market, homes are on the market for longer periods and real estate prices drop. Essentially, sellers are competing with one another to attract buyers. A seller may be forced to drop their asking price to make the sale, and they may be more open to negotiating offers.
When you're home shopping, a buyer's market is the ideal time to buy. You can take your time, visit as many homes as you want before making an offer and negotiate with the seller to bring the price down. In a buyer's market, sellers need to make repairs, market their property and price it competitively.

What Is a Seller's Market?
On the other hand, when demand for homes exceeds supply, this is known as a seller's market. Though many individuals are interested in purchasing a home, the inventory of available properties is low. Sellers have an advantage in this housing market since the lack of available homes creates more competition among buyers. Homes sell more quickly in a seller's market, and because buyers are competing over the same properties, sellers can increase asking prices.
With this price increase, buyers may need to be willing to spend a greater amount of money on a property. When there are many parties interested in a home, buyers rarely have negotiating power and may need to accept a property as-is. A housing shortage can lead to a bidding war, and the competing offers can drive the price above the seller's asking price. Sellers can take time to carefully consider their offers and only consider pre-qualified buyers.
Even though sellers have an advantage in a seller's market, you can still succeed as a homebuyer and find the home of your dreams in this market.

Signs of a Seller's Market
Before you start home shopping, you may want to determine whether your local area is currently experiencing a seller's market or a buyer's market. The following are some signs of a seller's market:
Lack of price cuts: Sellers are more likely to drop their asking prices in a buyer's market, so several price cuts to listed homes could indicate a buyer's market. On the other hand, a lack of price cuts can indicate a seller's market. Keep in mind, however, that sellers can have unrealistic expectations about the value of their properties, so look for a trend in pricing rather than a single occurrence.
Sales over asking price: Check the recent sales of the property you're interested in and homes comparable to it. If homes have usually been selling above the asking price, this may indicate a seller's market. Homes selling below the asking price, on the other hand, may indicate a buyer's market.
Bidding wars: A bidding war occurs when multiple buyers present competing offers for the same property. Buyers attempt to outbid each other by gradually increasing their offer. If you keep getting into bidding wars or you know friends or family who are home shopping and getting caught in bidding wars, this could indicate that the housing market is currently a seller's market.
Market trends: One of the strongest indicators of the current housing market is determining whether home prices in your area have been decreasing or increasing. Look at market trend reports to review the homes in your local area to get information on the median sale price, the number of properties on the market and how the numbers have changed during the last year. Increasing prices and decreasing inventory often indicate a seller's market.
Shorter time on the market: How long a home sits on the market is another factor that could indicate whether the housing market is currently a seller's or buyer's market. In a seller's market, homes sell faster than in a buyer's market. So if you notice a lot of quick sales, this could indicate a seller's market.
Fewer houses on the market: Consider the homes currently for sale. If the inventory is large, your local area may be in a buyer's market. However, if the inventory is limited, then your local area may be in a seller's market. Divide the number of properties for sale by the number of properties that were purchased in the past month. If you come up with a low number, this could indicate a seller's market.

Is It a Buyer's or Seller's Market in 2022?
The current housing market is a seller's market. The pandemic has had a dramatic impact on the housing market and ushered in new rules and processes, such as virtual open houses and tours.
The typical seasonality of home buying has changed in the past couple of years. While spring and summer used to be the height of the home buying season and turn to a seller's market, the pandemic has led to a highly competitive seller's market that has endured and made buying a home challenging, even during the slower winter season.
Current Trends in the Housing Market
If you purchased a home before the pandemic, you may be surprised by some of the changes you encounter now. Keep the following trends in mind if you are buying in the current seller's market:

Virtual Home Tours
Many real estate agents are conducting virtual tours and walkthroughs as the buyer's first view of the home. As a buyer, you may encounter everything from a simple video walkthrough to a more immersive experience with 3D technology.
A virtual tour can protect your health and save you time that you would've otherwise spent traveling to and from the property, especially if you looking to buy in a different city or state. Before the virtual home tour, make sure you download the appropriate app, charge your device and have a good internet connection. You should also ensure you're in a quiet place where you can hear the real estate agent.
Take advantage of this opportunity to view the home virtually by asking the agent to zoom in on certain areas, open closet doors and describe specific features.
Increased Buying Activity
Buyers are showing continued interest in purchasing properties, even as mortgage rates and home prices steadily rise. While the number of homes for sale on the market hit a record low, sales and median home listing prices shot up. Due to the pandemic, the way people view and prioritize their homes has changed, and this new mindset is likely to persist.
A slight majority of buyers have owned a home previously, and those that have been renting before buying cite the desire to own a home as their decision for buying. Others want a larger property or want to move to be closer to family or friends.

Bids Above the Asking Price
With so many competitive buyers bidding on homes, many offers are coming in above the asking price. As we approach the spring and summer seasons, this flurry of homebuying activity is likely to only get more hectic. Buyers have been lining up to purchase homes for months, even in the winter, which has led to an unusually low real estate inventory and greater competition over homes.
This increase in demand drives up prices, and other buyers are likely to put in offers on the same property, so if you want to get your dream home, you may have to place a bid above the asking price.

Geography Dictating Homebuying Routines
Though some real estate experts believe that what was once considered normal in the housing market may never be normal again, others believe the new homebuying routines are a matter of geography. How people sell and buy homes is influenced by lockdowns and school closings, so areas with more mandatory school closings and longer lockdowns may face sharper effects than those with looser pandemic rules.
Experts believe open houses will return, while others expect only video walkthroughs for homebuying this season. Whether you can expect a return to open houses depends on the area where you're buying a home and the restrictions in place. For example, more restrictive states like New York may not have open houses, and real estate agents may require pre-qualification for a mortgage to attend a showing.
If you're looking to buy a home, don't let the current seller's market deter you. There are strategies and tips you can follow to successfully navigate the market and buy the home you want.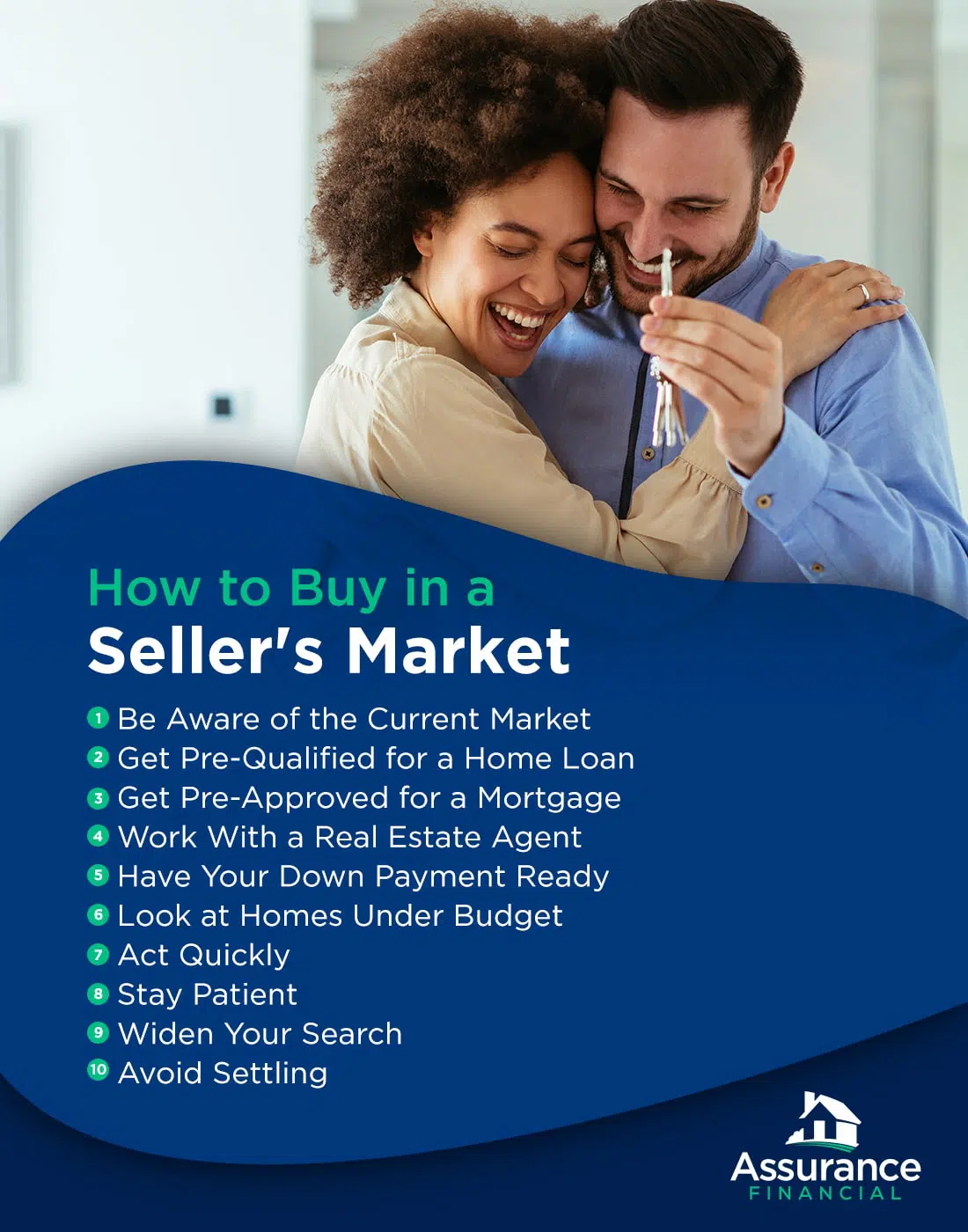 How To Buy a House in a Seller's Market
If you want to buy now, in a seller's market, you should know how to navigate this housing market and get a good deal even when there is a limited supply of homes. Though you probably shouldn't expect to negotiate for repairs or convince a seller to accept less than their asking price, you can utilize some methods and strategies to successfully compete in this ultra-competitive housing market. Follow these tips for buying in a seller's market:
1. Be Aware of the Current Market
While home shopping and making an offer, keep in mind what kind of housing market you're shopping in and know that you are at a disadvantage. In a seller's market, you may not have the leverage to push for concessions, contingencies, repairs or a strict closing date. Be sure to focus on what matters most to you, and consider whether the stipulations you want to be included in the contract are worth losing the home over.
2. Get Pre-Qualified for a Home Loan
Getting pre-qualified for a mortgage means a lender is willing to lend you a certain amount for the purchase of a home. Though this isn't a guarantee of a mortgage, it gives you a maximum loan amount to work with. Many sellers only want to consider offers from pre-qualified buyers, especially in a seller's market. Apply to get pre-qualified with Assurance Financial when you're ready.

resources
Downloadable Guides
We've created these guides to be a valuable resource to walk you step-by-step through your next adventure.
3. Get Pre-Approved for a Mortgage
After getting pre-qualified, your next step is getting pre-approved for a mortgage. A pre-approval is based on an analysis of your finances. The pre-approval offers a more concrete number for a loan amount. The lender will review your completed mortgage application and conduct a credit check. Though pre-approval is also not a guarantee of a mortgage, it's a more accurate estimate than pre-qualification.
4. Work With a Real Estate Agent
Whether you're buying in a seller's market or a buyer's market, working with a real estate agent can ensure you navigate the current housing market successfully. Real estate agents can give you an advantage over other competitive buyers, as they have the skills and knowledge you need on your side. Real estate agents may also have connections allowing them to identify and view homes before they're even on the market or before the final bids are considered.
To choose the right real estate agent, read their reviews, find out what their experience is and speak with buyers they've worked with. After you narrow down your list to a few options, there are a few important questions you can ask to choose the right agent for you:
What are your fees?
How familiar are you with this area?
What's the most difficult deal you facilitated?
Do you have access to properties that aren't listed yet?
How can you strengthen my offer in a competitive seller's market?
Your real estate agent can help you strengthen your offer by looking beyond price. Consider what else the seller values to give you an advantage, such as conveniences or contingencies. For example, if you can close earlier or you don't need to move immediately and can give the seller more time to find their next home, this could give you an advantage when the seller is considering their offers.
5. Have Your Down Payment Ready
Be sure to save up enough for a down payment. If someone is giving you the money for your down payment in the form of a gift, discuss this process with your lender. The person giving you this money may need to write a gift letter that explains you don't need to repay the money. Many lenders will also want to see the bank statements from the account with your down payment funds, and they may want to see that the funds have been in the account for a couple of months.
6. Look at Homes Under Budget
In a seller's market, many sellers receive multiple offers on their homes. As a buyer in a seller's market, you should look for homes that fall below your spending limit. Other buyers are likely to bid higher than the asking price, so you want to look at homes on which you can afford to bid higher than the asking price. With this strategy, you can afford to bid up without exceeding your comfortable spending limit or needing to dip into your savings.
7. Act Quickly
When you find your dream home in a seller's market, it's important to act quickly. Hesitating to make an offer on a home you know you love and want to purchase may mean losing your dream home. By the time you make your offer, the home may no longer be available. Ensure you get preapproved for a home loan before you start shopping so you can make an offer immediately.
8. Stay Patient
In a competitive seller's market, it's normal to lose out on homes you're interested in. Try not to get discouraged, and stay patient. Inexperienced buyers could get frustrated, find themselves caught up in a bidding war and offer more on a home than they're comfortable spending or more than the property is actually worth.
Keep in mind, though, that you don't have to give up as soon as you sense someone could outbid you or has an all-cash offer. Deals fall through all the time, as your real estate agent can attest, so being the second-choice offer can still work out in your favor.
9. Widen Your Search
The most popular neighborhoods understandably come at the highest prices. If you want to own a home in a specific ZIP code but homes in the area are not within your budget, you may want to consider widening your search. Identify what you like about this neighborhood, such as the school, parks, public transportation or local businesses and restaurants. Once you determine what features you want in your neighborhood, you can try to find them in locations you haven't explored or considered before.
10. Avoid Settling
When a homebuyer grows tired of losing out on homes, they may make an offer on a home they wouldn't be interested in otherwise. Try to avoid this situation, and keep in mind that purchasing a property is a huge, long-term investment. You may be living in and paying for this home for decades, so don't settle for a home you don't love unless you need to move immediately.
Similarly, try to avoid fixating on the first home you fall in love with. This can lead to a huge disappointment, or even worse, a bad financial decision made during a moment of desperation.

Contact Us at Assurance Financial to Learn More
As a mortgage lender, Assurance Financial is a home loan expert. We want to help you realize your dreams of owning a home, and our team can assist you through every step of the process, regardless of whether you want to buy a starter home or a vacation home. You have several different loan options for your mortgage, including conventional loans, FHA loans, VA loans and jumbo loans.
With our financial mortgage services, we can offer you a customized option for paying for your home. Contact us at Assurance Financial to learn more about how to find a house in a seller's market and get the mortgage loan option that's right for you.
Ready to Get Started?
Home loans is our specialty. So if you're looking for the best home
loan experience, you've come to the right place.