5 Reasons Why a Reverse Mortgage Loan May be Right for You
With a reverse mortgage loan, the bank makes payments to you, versus the other way around, based on the market value of your home. Amazing right? In order to qualify, you must be at least 62 years young, own your well-maintained home, and have significant equity in it. If that all sounds like you then let's see how you can turn your home into a cash machine. Here are just 5 of the many reasons this option may work for you!
#1 - Do more of what you like
Increasing your discretionary income each month allows you to spend more on what makes you happy.
On top of the bank paying you every month, you no longer have to make those regular mortgage payments.
A reverse mortgage loan lets you make the most of your golden years by providing supplemental income. Which, by the way, is tax free.
If you downsize or relocate, a change of scenery won't cost you a penny out of your pocket. And if you're not sure you want to move, you don't have to either.
#5 - Leave something behind
Eventually, the reverse mortgage loan is repaid either by selling the home or the borrower passing away. If the latter happens, any leftover equity belongs to a surviving spouse or heirs.
Isn't it time your home pays you back? Call us at 1-866-790-7980
A reverse mortgage loan in 6 easy steps
Step 1: Connect with your loan officer
We'll cover the reverse mortgage loan basics and patiently answer all of your questions.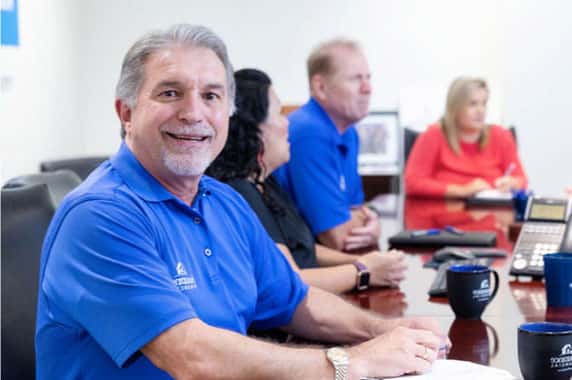 Step 2: Meet with a HUD counselor
The counseling session is brief, informative, and required by the Department of Housing and Urban Development (HUD).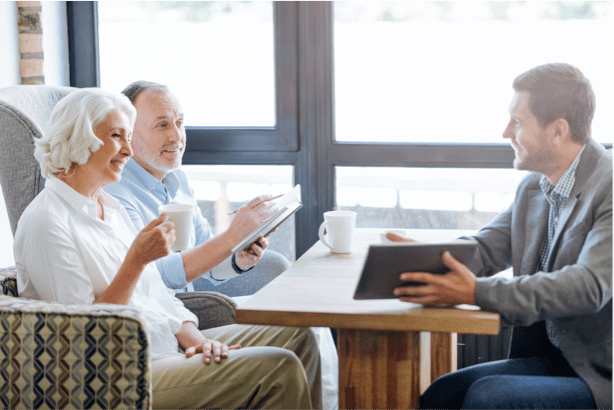 Step 3: Apply with your home loan expert
It's as easy as making a phone call! You can apply for a reverse mortgage loan without ever leaving the house.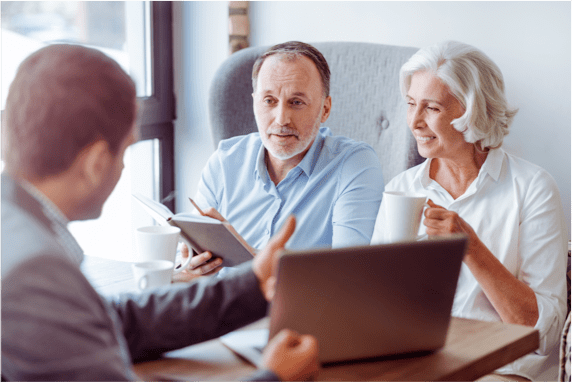 Step 4: Send off all the required documents and wait for approval
Having these items on hand can help the process move faster.
Statements from any accounts where you have cash or investments.
Last 30 days of income for each applicant, if applicable.
Proof that the government knows you are who you are.
Any state-issued ID card or passport. Bonus points for a great smile.
Your most current policy showing you're financially protected.
Step 5: Sign on the dotted line
Once you've signed for the loan, you'll have 3 days to cancel before your funds are dispersed.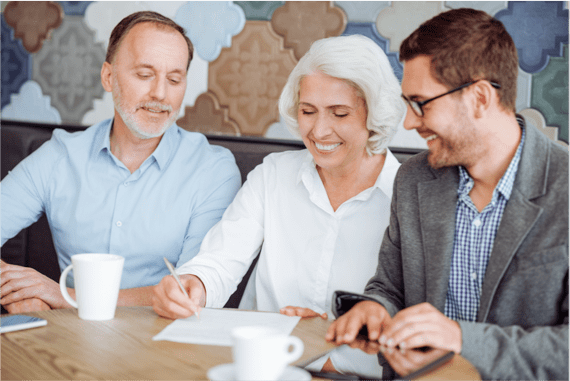 Step 6: Receive your information packet
You made it! Check the mail for information explaining how to receive regular draws. We are always here to continue answering questions.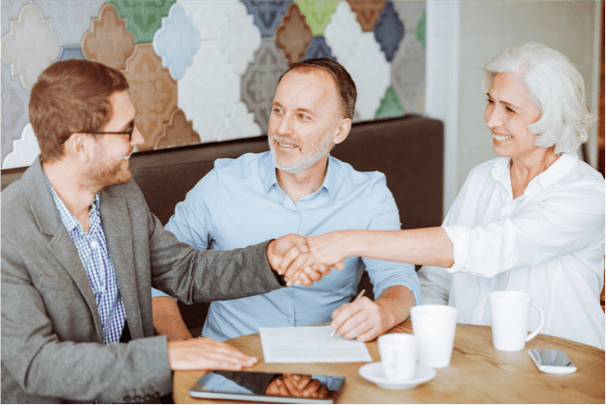 Collect your funds in a handful of ways
Want more info on reverse mortgages?
Sometimes holding paper in hand is easier than scrolling down a screen. Download this two-page guide to review more details.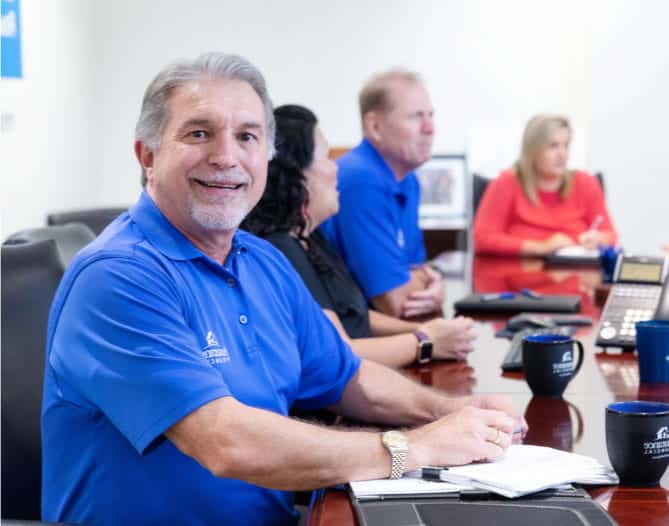 Get answers today.
Call 1-866-790-7980 or use our search tool to find a loan officer today. Our customers like us because we're the people people! We care about getting the right loan at the right time for you. Even people who have previously bought homes can find themselves inundated by paperwork, confusing processes, and new concerns. The right loan officer can help you find your way through this unfamiliar territory. It's our #1 goal to make your Reverse Mortgage Loan experience easy and hassle-free.
FIND A LOAN OFFICER
Myths & Realities of a Reverse Mortgage
As with many financial products, reverse mortgage loans can be complicated and there may be a number of misconceptions about how the product works. Do you know the myths vs. the realities?
MYTH 1: The lender owns the home.
You will retain the title and ownership during the life of the loan, and you can sell your home at any time (at which time the loan becomes due and payable). The loan will not become due and subject to repayment as long as you continue to meet loan obligations such as living in the home as your primary residence, maintaining the home according to the Federal Housing Administration (FHA) requirements, and paying property taxes and homeowners insurance.
MYTH 2: Once loan proceeds are received, you pay taxes on them.
Generally, money received is not considered income and should be tax free, though you must continue to pay required property taxes. Consult your financial advisor and appropriate government agencies for any effect on taxes or government benefits.
MYTH 3: The home must be free and clear of any existing mortgages.
Actually, many borrowers use the reverse mortgage loan to pay off an existing mortgage and eliminate monthly mortgage payments.
MYTH 4: The borrower is restricted on how to use the loan proceeds.
Once any existing mortgage or lien has been paid off, the net loan proceeds from your reverse mortgage loan can be used for any reason. Many borrowers use it to supplement their retirement income, delay receiving social security benefits, pay off debt, pay for medical expenses, remodel their home, or help their adult children. You have worked hard for this asset and prudence along with budgeting should be the proper approach to enjoying proceeds received from your reverse mortgage loan.
MYTH 5: Only poor people need reverse mortgages.
The perception of the reverse mortgage as an assist for the "poor" borrower is changing - many affluent senior borrowers with multi-million dollar homes and healthy retirement assets are using reverse mortgage loans as part of their financial and estate planning, and are working closely in conjunction with financial professionals and estate attorneys to enhance the overall quality and enjoyment of life.
Speak with a reverse mortgage loan expert.
A Reverse Mortgage Loan is the only type of loan that cannot be started online. We have friendly experts to answer your questions. Find a loan officer licensed in your state.
FIND A LOAN OFFICER
Questions? Let's answer them together!
Still trying to fill in the blanks? Take a look at some of the most frequently asked questions we get – with answers of course. Learn more about Assurance Financial.
READ FAQS
If you need cash and are a senior, one of your largest assets may be your home. You might not think you can tap into the equity you have built into your home, but reverse mortgage loans give you more options than you might realize.
What Is a Reverse Mortgage Loan?
A reserve mortgage loan allows you to borrow against the equity of your home. If you are at least 62 years old and own your home, you may be able to get money against the equity of your home. If you have significant equity in your property, this sort of financing might be right for you.
How Does a Reverse Mortgage Loan Work?
With traditional mortgages, you are borrowing money to pay for your home, and you are paying lenders every month to pay down the loan. With a reverse mortgage loan, you already own your home, and reverse mortgage lenders arrange to have money sent to you.
Reverse mortgage loans allow you to earn money you can use as additional income. You can use the money any way you want, whether that is paying for health costs, vacations or everyday expenses. You don't have to make any payments the way you do with a home loan.
Reverse mortgages are easier to qualify for, too. As long as you own a home with plenty of equity and are at least 62 years of age, you qualify regardless of your income or credit score. While they may work similarly to other credit lines, many seniors on a fixed pension may not qualify for traditional loans. Reverse mortgages allow them to borrow money without having to prove their income or good credit.
The Benefits
For seniors, reverse mortgage loans are attractive because they offer a way to access an investment paid for over many years. Yet, there is no need to move out of a beloved home. Reverse mortgage loans also do not require senior homeowners to worry about making monthly mortgage payments.
This form of loan is also quite flexible. You can get a monthly payment like an income, a line of credit you can use whenever you need or one lump sum. Your balance is only due if you move away or sell the home. Once a borrower passes away, the balance is due, as well.
The loans are created so they are not larger than the value of the home. They are also structured so the loan cannot become the responsibility of beneficiaries, even if the borrower lives a long time and the home's value drops for some reason.
For seniors who are house-rich but do not have many other assets, this form of loan can provide needed cash and even an income. However, it is important to understand this form of financing and its implications before signing. It is not enough to ask "what is a reverse mortgage loan?" You also need to ask "is this the right choice for me?"
Understanding Reverse Mortgage Loans
With this type of loan, the interest is included in the loan balance. This ensures there is no need for upfront payments or interest payments from the homeowner. In addition, these loans allow the homeowner to keep the title to their home. The home acts as collateral for the financing.
However, it is important to keep in mind reverse loans increase debt while decreasing equity. If a homeowner with a reverse mortgage wants to sell their home — or if a homeowner passes away — proceeds from the sale of the home are used to pay the lender's mortgage insurance, fees, interest and the principal.
If there is anything left over after all these costs, that amount goes to the homeowner or their beneficiaries. However, since the equity may have been reduced and fees are added, there may not be much left. This is a consideration if a homeowner wants the home to be bequeathed.
It is important to speak to a mortgage professional and to use a reverse mortgage calculator to determine all the costs associated with the loan. Another option to keep in mind is that the heirs can pay off the mortgage. If they do so, they can keep the property.
Another consideration to keep in mind is home responsibility. Senior homeowners will continue to be responsible for maintenance, property insurance, property taxes and other costs. In addition, if a senior needs to move into a nursing home soon after getting the loan, they may have eroded some of their equity in fees and interest.
It is important to understand all the costs associated with the reverse loan, including the fees the lenders will keep, as well as the interest. It is also important to ensure a reverse loan provides a beneficial and long-term solution to a financial concern. If it only provides short-term relief, another financial solution might be a better option.
You also might need to consider property rights when getting a reverse mortgage. If someone else owns part of the home or lives with you, getting this type of financing can affect their ability to remain in the home or to continue owning part of it.
When to Connect With a Reverse Mortgage Loan Lender
If you are at least 62 years young and have equity in your home, you may have the option of getting a reverse mortgage, selling your home or renting it. If you choose to tap into the equity of your property with a reverse mortgage loan, contact a local loan officer at Assurance Financial. Our team can answer your questions and honestly explain all the implications of a reserve home loan.
If you have at least 50% equity in your home or your home is half paid off, you may qualify if you are a senior. If you think you may qualify, contact Assurance Financial to talk to a loan officer.
Speak With a Loan Officer Today to Learn More About Reverse Mortgage Loans
If you are curious about what reverse loans can do for your finances, contact Assurance Financial. You can apply for a free home loan quote by using Abby, the online virtual assistant, or by contacting a local loan officer.
If you need a reverse mortgage home loan, a few things may set Assurance Financial apart. One of the first things you may notice is that we treat you like a valued person instead of a number. We see ourselves as The People People, and we work hard to bring the personal touch to every interaction. We know you have goals, questions and concerns, and we work hard to ensure you have a good experience with us.
Unlike some lenders, we are experts offering government-insured mortgages. If you are concerned about scams, you can rest assured Assurance Financial abides by the highest standards of ethics and honesty.
Assurance Financial also handles all processing in-house. We don't sell your loan to others for processing, so we always know exactly what is going on with your application. Our team also helps you through the application process every step of the way.
If you want to apply, get pre-qualified online with Abby, or reach out to a loan officer near you. We can take it from there and ensure you get the reverse loan and financing you need.