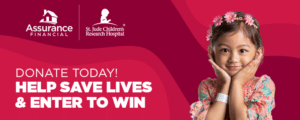 During September, when you make a donation to St. Jude Children's Research Hospital, you'll be entered to win a $100 gift card to either Fisher's Dock Side or Gambino's Italian Grill! I believe in giving back, not only to those in need but also giving back to you! 
How to enter:
Step One: Make a donation (minimum $1) by clicking this link or the donate button below.
Step Two: Email me at kpolitz@assurancemortgage.com with your donation amount, name, and phone number. You will not be entered in the giveaway unless you email me!
Please submit your donations and entries by midnight September 30th! The winners will be announced on my Facebook page on October 7th, so be sure to like and follow my page here! Winners will also be notified via email and text message. Thank you in advance for your donation to St. Jude's!
Kim Politz is a Loan Officer in the Gulf Shores, AL branch of Assurance Financial. She has 25 years of experience in the residential mortgage lending industry and strives to make the home financing experience stress free for all her clients.
By sharing her knowledge and expertise, she helps her clients make informed decisions regarding their home loan. She takes a hands-on approach and remains by her clients side from application to closing, and beyond. A testament to her dedication is the simple fact that her clients return to her for their home loan needs as they look to upgrade or even buy a second home or investment property.
Kim is licensed through the National Mortgage Licensing System in the states of Alabama, Florida, Louisiana, Mississippi and Texas. She is a native of Baton Rouge, where she attended LSU. She is a resident of Gulf Shores, AL and loves to get to the beach as much as possible. She also loves traveling and cooking!