When you're shopping for a phone or a new pair of jeans, the process is relatively straightforward. You probably check out your options online, maybe try a few out in the store, pick the best fit and get on your way.
It's not that simple with homebuying, though. Buying a home is an enormous investment. The process takes time, and especially for first-time buyers, it can be overwhelming.
Having a checklist to move through gives first-time homebuyers a sense of control and purpose. Being able to map out the process makes everything a little less daunting.

Why It Helps to Have a Checklist Before Buying a Home
Buying a home can be a long, demanding process. According to the National Association of Realtors, the median buyer looks for 10 weeks before finding a place, and sees an average of 10 homes during that time.
First-time homebuyers are a large cohort, making up over a third of all buyers. But sometimes first-time buyers don't have all the information they need to take the proper steps or make the right decisions at every turn.
A first-time buyer checklist, then, is useful for a few reasons.

1. It Helps Buyers Make Sense of an Unfamiliar Process
If you're a first-time homebuyer, many of the terms and procedures involved in home buying will be new to you. You'll have to learn what closing costs and fixed-rate mortgages are. You'll face moments of uncertainty about all the different people and negotiations involved in the process. You'll need to know what steps to take when, and you'll need to be aware of what difficulties could arise so you can prepare to head off problems before they throw a wrench into your search.
Having a checklist provides you with a practical sense of how the homebuying process works. That way, you'll understand exactly what needs to happen before you have the keys to your new home securely in your pocket.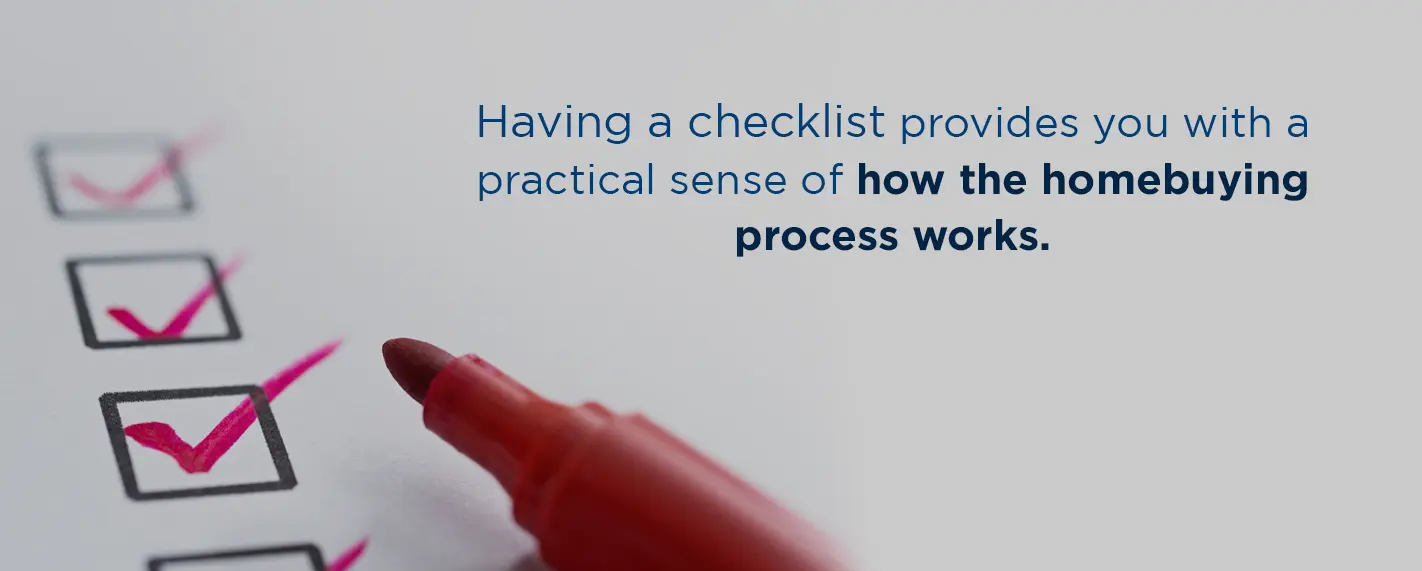 2. It Helps Buyers Understand the Homebuying Timeline
"When should we apply for a mortgage loan?" "When should we get an appraisal?" "Should we have talked to a real estate agent already?" Questions like these can muddy the waters of the homebuying timeline, leading to doubt and frustration.
The virtue of a first-home checklist is that it provides visual orientation. That way, buyers can address these questions at a glance, and quickly figure out what needs to happen when. This clarity helps buyers focus their energy where it needs to be, instead of worrying about escrow when they haven't even figured out a budget yet.

3. It Provides Valuable Information
Being armed with knowledge and information gives first-time homebuyers a leg up on the competition — and the housing market can be competitive for sure. You'll need to keep many essential items in order, or a sudden setback could derail the process just when you think you're all set.
How to qualify for a home loan as a first-time buyer is one of the first, most critical questions. Having a first homebuyer's checklist as part of the mortgage process provides valuable tips and tricks to make sure everything goes smoothly and you end up with favorable loan rates.

First-Time Homebuyer Checklist
The checklist below will help with what first-time homebuyers need to know before buying a home.

1. Check Your Credit Score
Your credit score is crucial, because mortgage lenders look at it to determine your creditworthiness and loan eligibility. Your credit score determines the rates you'll receive. A better credit score leads to lower interest rates, whereas a lower score leads to higher rates.
Credit bureaus typically base your credit score on a combination of factors such as:
Your payment history
The amount of credit you have
The amount of debt you have
The length of your credit history
The mix of types of credit you have
For example, a person with a blend of student loans and credit cards likely has a better credit score than a person who owes the same amount on credit card debt alone.
It takes time to raise your credit score, so it's wise to assess it early. You can check your credit score for free online. Some credit card companies offer a free credit score once a year, or you can check for free at sites like CreditKarma.com or AnnualCreditReport.com.

2. Raise Your Credit Score
One critical part of your credit score is the amount of credit available on the amount of credit you have. If you can do so, pay off some debts. If you have any outstanding bills, prioritize paying them before they get too far past due. Creditors don't typically report missed payments until 30 days past the due date, but after that, unpaid bills will lower your score. If you see any errors in your credit report — it does happen — contact the credit bureau with proof of the mistake, so they can issue a correction. Even if you have excellent credit, a small boost may help you qualify for better loan rates.
Raising your credit score can help you secure the lowest interest rates on your mortgage loan. Many traditional lenders require a score 660 or higher to qualify for a mortgage loan, and you'll likely need a score of 740 or higher to get the best interest rates. If you have poor credit of 580 or above, though, you may be able to get a mortgage loan through government programs like the Federal Housing Administration (FHA), which will consider lower scores if you're willing to put down a larger down payment. Active-duty and retired military personnel are eligible for Department of Veterans Affairs (VA) loans, which also tend to be lenient with poor credit.

3. Establish a Realistic Price Range
While you're waiting for your credit score to go up a few points, think realistically about what your budget has room for. What down payment can you afford, and what mortgage payment can you afford? You can use online calculators to figure out monthly mortgage payments and play around with variables like the amount of the down payment and fluctuating interest rates.
Don't forget the mortgage won't be your only payment — homeowner insurance and property taxes can add up to to a hefty chunk.

4. Establish Your Priorities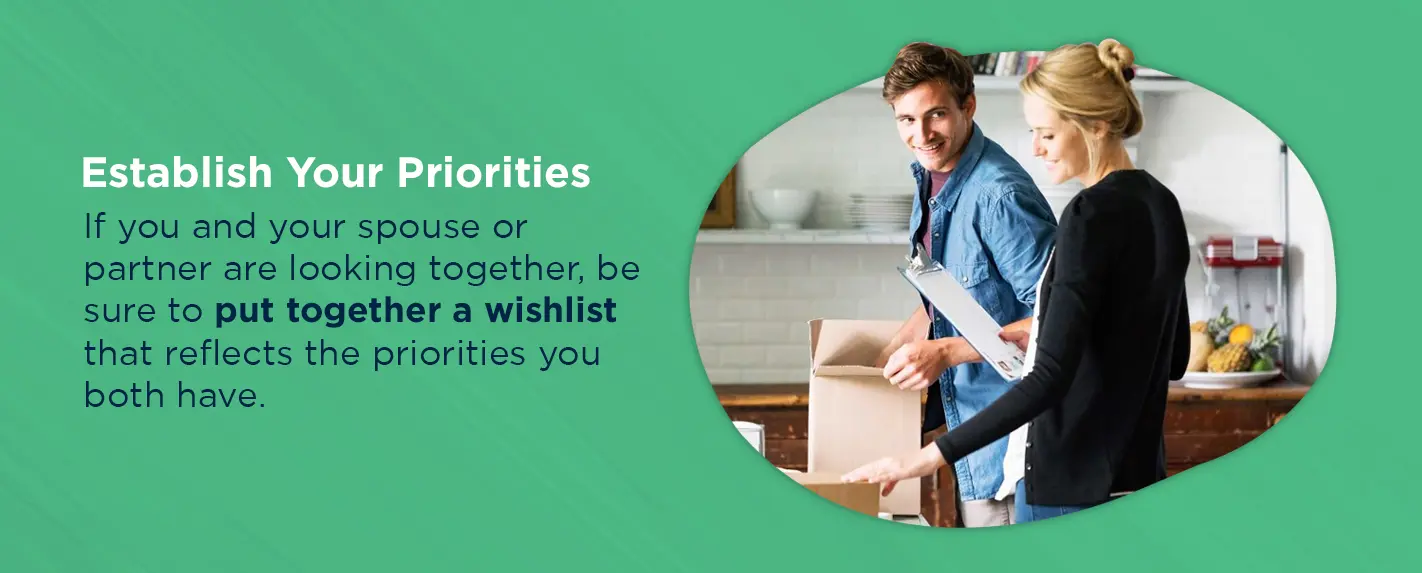 Maybe having three bedrooms and two bathrooms is a hard-and-fast requirement. Perhaps you're firm on having a manageable commute to work and not buying a house in the floodplain. Maybe you'd love a yard with a river view and a big patio to grill on, or an interior with exposed brick and crown moldings, but you can live without those things. Or, perhaps your 5-year-old insists on an in-ground swimming pool and unicorn paddock, but would be OK as long as there is treehouse potential.
No matter what your priorities are, make sure you've thought seriously about them before you start looking. If you and your spouse or partner are looking together, be sure to put together a wishlist that reflects the priorities you both have. You'll both be substantially invested in your new home, financially and otherwise, so you both need to be happy.
Be prepared for some of your priorities to shift during the house-hunting process, though. If you find a house that checks all the boxes, but you can't see your kids growing up there, it's OK to listen to your gut. If you always thought the north side of town was too far away from work, but discover the perfect house right on the bike trail, don't write it off because it doesn't fit with the list you originally made.

5. Check out Different Mortgage Lenders
Call and ask about your options with different banks, credit unions and mortgage brokers, or speak with the VA if that option applies to you. See if you qualify for a mortgage and what rates your credit score makes you eligible for. Treat your potential mortgage the same way you'll treat your potential home: Don't choose the first one you see. Look at several to figure out their advantages and drawbacks.
It's vital to compare rates across different lenders. For example, you may find two lenders that both offer 30-year fixed-rate mortgages. If one offers a 4% interest rate and another offers a 4.4% interest rate, that extra 0.4% adds up to a lot more extra money than you might think over the 30 years of the mortgage. Especially if you have a so-so credit history, different lenders may offer you markedly different rates, so shopping around can lead to significant savings.
With a $300,000 mortgage at a 4% interest rate, for example, you might have a monthly payment of $1,289 a month and $164,040 in interest paid over 30 years. For that same mortgage at a 4.4% interest rate, you might pay $1,352 a month and $186,720 interest over 30 years. That's a difference of over $22,000 over the span of the loan, from a variance of only 0.4% in interest rates.
It's also essential to figure out the pros and cons of different lenders. If they sincerely want your business, some lenders may offer an expedited process or be amenable to paying your closing costs. But lenders also charge different fees: loan application fees, rate lock fees and many more.

6. Scrape Together a Down Payment
In recent studies, 13% of all buyers reported saving for the down payment proved their most significant hurdle to homeownership. To get the best rates, you'll likely have to put down 20% of the list price, though it is possible to buy a home with a smaller downpayment. For a $300,000 home, that 20% comes to $60,000 — not a trifling amount. With federally-backed VA and FHA loans, people typically put down much less. The average down payment percentage also varies by region, soaring higher in areas where housing costs more.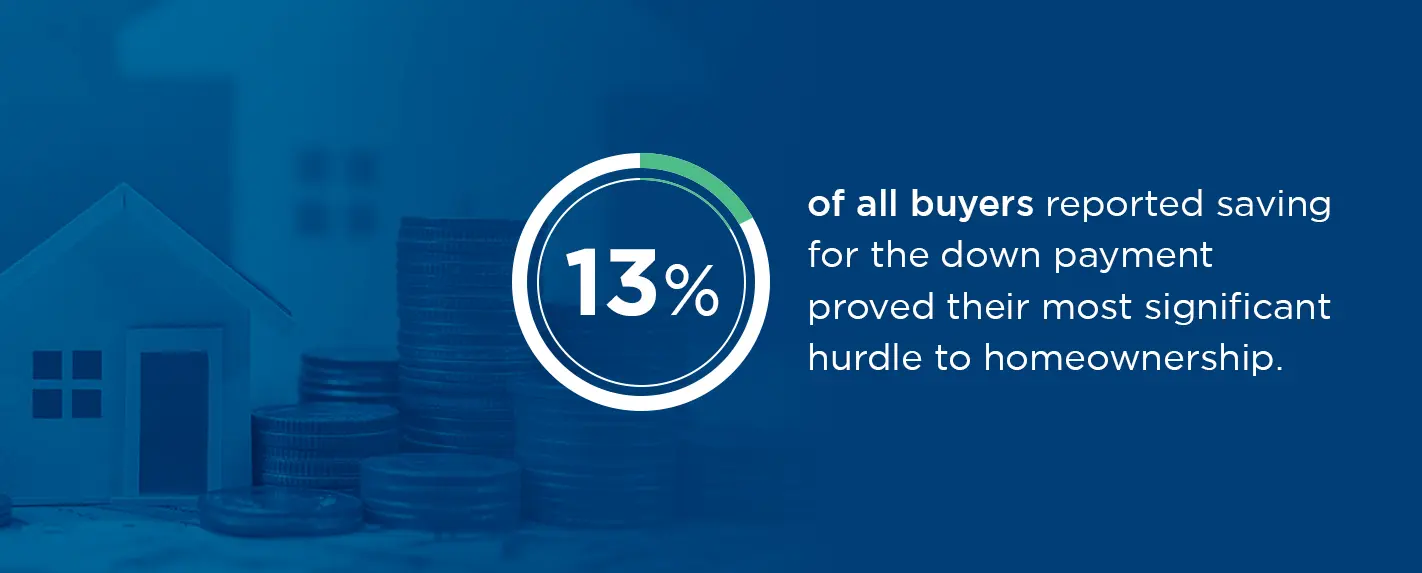 Make sure you've saved up, and think about how you can save more if you're serious about reaching your goal. To this end, you'll want to keep your financial life stable. If you're planning to buy a home, it's probably not the right time to quit your job, go back to school, buy a brand-new car or open new lines of credit — unless doing so will help your credit score. Find ways to save instead of spending. If you can't comfortably cut back, that may be a sign your homebuying budget is unrealistic.

7. Get Pre-Approved for a Mortgage
Pre-approval means a lender looks over your income information, assets and credit score. The lender tells you what loans you qualify for and what interest rates you can expect to receive, and provisionally agrees to lend you a specific sum.
Especially in competitive markets, pre-approval is almost a necessity. A mortgage pre-approval statement provides sellers with specific details of the loan you will get, so the seller can feel confident your offer won't fall through.

8. Shop Around for the Right Real Estate Agent
Studies show that in all demographics except for buyers aged 71 and up, the majority of people search online listings first before contacting a real estate agent. Online searches are a beneficial first step. At some point, though, you will probably want to reach out to a professional.
Your agent will be your negotiator, the person who helps you navigate offers and counteroffers and deal with the closing process. You need someone savvy, so do your homework by reading online reviews or speaking to past customers if you can. When you're choosing a real estate agent, a friendly, laid-back person you get along with is a plus. However, don't discount someone just because that person seems blunt or aggressive. A bulldog of an agent can help you at negotiation time.
Studies show 88% of buyers purchase a home through an agent, and a whopping 92% of buyers 36 and younger do so. Not seeking out a real estate agent can put first-time buyers, especially younger buyers, at a significant disadvantage.

9. Attend Open Houses
Sometimes a house looks great in photos, but once you get there, you realize strategic uplighting worked magic on rooms that are gloomy in real life, or that despite the grassy expanse of lawn you saw, the neighbors are only six feet away. Sometimes the opposite is true, and a home that doesn't photograph well shows up stately and charming in real life. Going to open houses lets you see real homes in all their quirks and glory. It's a good idea to take photos yourself, so you can keep details straight.
Keep in mind you're not just seeing the homes — you're scoping out the locations, too. If you love the gingerbread trim, but the neighborhood seems unsafe, or you wanted to be near the university, but the noise from the stadium is overwhelming, chances are those homes may not be the right fit.

10. Put in an Offer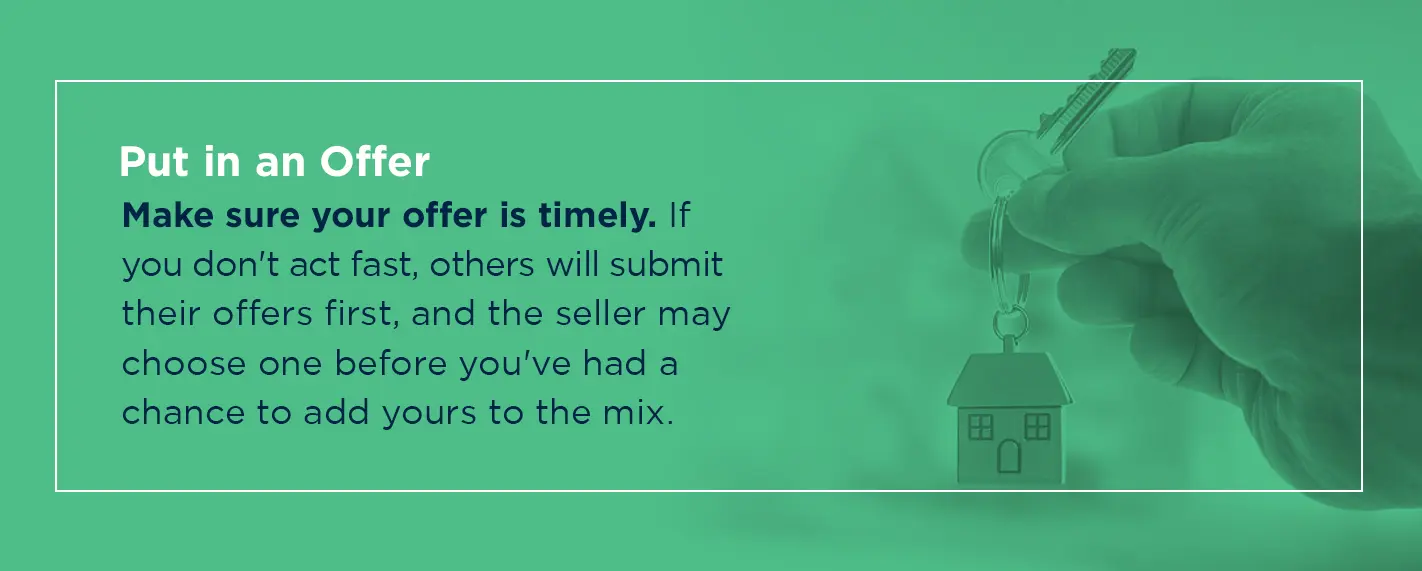 Browsing listings and seeing open houses is fun and exciting, but at some point, you'll have to pull the trigger. If you've found a home you love and are serious about, your real estate agent can help you get your offer together. Preparing an offer typically includes setting your offer price, receiving disclosures, figuring out contingency clauses and setting a time frame for closing.
Make sure your offer is timely. If you don't act fast, others will submit their offers first, and the seller may choose one before you've had a chance to add yours to the mix. It's also essential to make sure your offer is realistic and well-calculated. If your offer is too low, you won't stand a chance against the competition. If it's too high, even if you love the house, you may feel you made a bad deal.

11. Negotiate
If the sellers choose your offer, that's great news. You're not quite done, however. The sellers may make a counteroffer, perhaps asking for a thousand dollars more or dropping the price by a grand or two if you agree to pay their closing costs on top of yours.
At this point, your real estate agent can be an excellent source of insight about how to proceed. If you love the house, you may accept what the sellers ask for, or if you can't live with the new terms, you may want to counter for yourself.

12. Go Through Inspection
This step of the first home checklist process often leads to a few days of worrying. What if the inspector finds something severely wrong with the house, and you have to give it up? There's nothing to do at this point but wait and see.
During a home inspection, a professional walks through the home and looks for any structural or environmental problems that might impact the sale. These can range from minor issues, like clogged gutters or a damp basement, to more serious problems, like a cracked foundation, faulty wiring or the presence of black mold, that would make the house too hazardous to be a wise investment.
13. Go Through Appraisal
Most mortgage lenders require an appraisal before they will officially approve a mortgage. During this process, a professional appraiser assesses the actual value of the home. They will consider factors such as the home's condition, its features and amenities and its square footage, as well as its comps, or the sale prices of homes of comparable value.
If the sellers have listed a home at a price too far above its actual worth, the mortgage lender will issue a mortgage only for the appraised amount, leaving you to cover the rest or move on to a home whose listed price and appraised value align.

14. Renegotiate
After the inspection and appraisal, if you're still on board with the sale, you can ask the sellers to perform any necessary repairs, or you can use the discovered problems as a bargaining chip to negotiate a lower price if you're prepared to tackle some home-improvement projects after closing.
Your agent can advise you about what to ask for to bring the house up to a reasonable standard and what concessions to make in the interest of a quick closing process.

15. Close on the Home
When you've settled all the major issues and you and the sellers have agreed on final costs, the last step is to close. Once you're there, you've made it! At closing, you will sign final paperwork to seal the deal. You'll receive the deed to the property — and, after a long and sometimes grueling process, you'll finally own your first home.
Get Started Buying Your First Home With Assurance Financial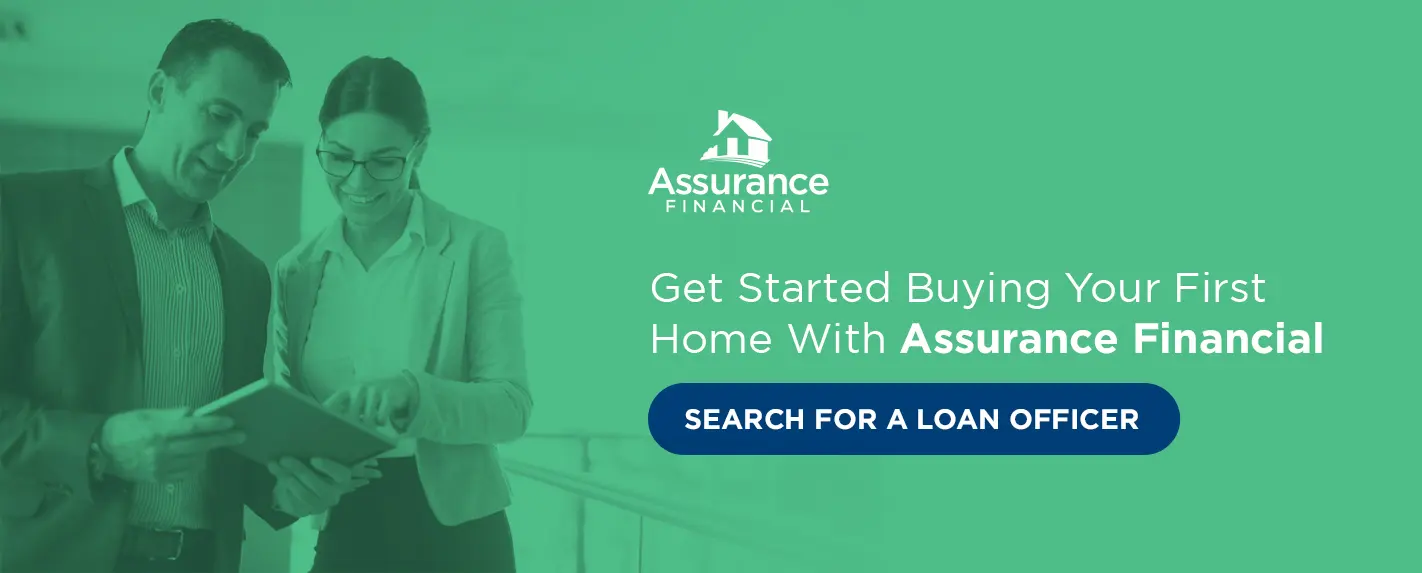 Now that you have your first-time homeowner checklist, you're ready to get started.
At Assurance Financial, we understand first-time homebuying can be a daunting and complicated process. Our trusted advisers will be with you every step of the way. We'll answer your questions and make sure you get the right loan for your situation, so you can own the home of your dreams without financial worry.
As full-service residential mortgage bankers, we have the knowledge, insight and resources to help you obtain the loan that works for you. We treat all our customers with compassion and respect because we want to help them get into the homes of their dreams. Search for a loan officer using our online tool, or contact us today.
Popular Loan Types
Additional Resources You May Also Like
Ready to Get Started?
Home loans is our specialty. So if you're looking for the best home
loan experience, you've come to the right place.