If you're looking to obtain a mortgage for your dream home, you've likely heard of loan officers. A licensed loan officer is required to obtain a mortgage, but what does a loan officer do? Why is working with a loan officer necessary, and what is their role in the mortgage loan process?
A loan officer can help you find the right loan type and mortgage terms for you. Because a loan officer is such a key player in the process of finding a mortgage, knowing how to choose a loan officer and what qualities to look for are essential in ensuring you get the best mortgage for you.
What Is a Loan Officer?
You may know that finding a loan officer is an important step in the process of obtaining your loan. Let's discuss what loan officers do, what knowledge they need to do their job well, and whether loan officers are the best option for borrowers in the loan application screening process.
1. What a Loan Officer Does
A loan officer works for a bank or independent lender to assist borrowers in applying for a loan. Since many consumers work with loan officers for mortgages, they are often referred to as mortgage loan officers, though many loan officers help borrowers with other loans as well.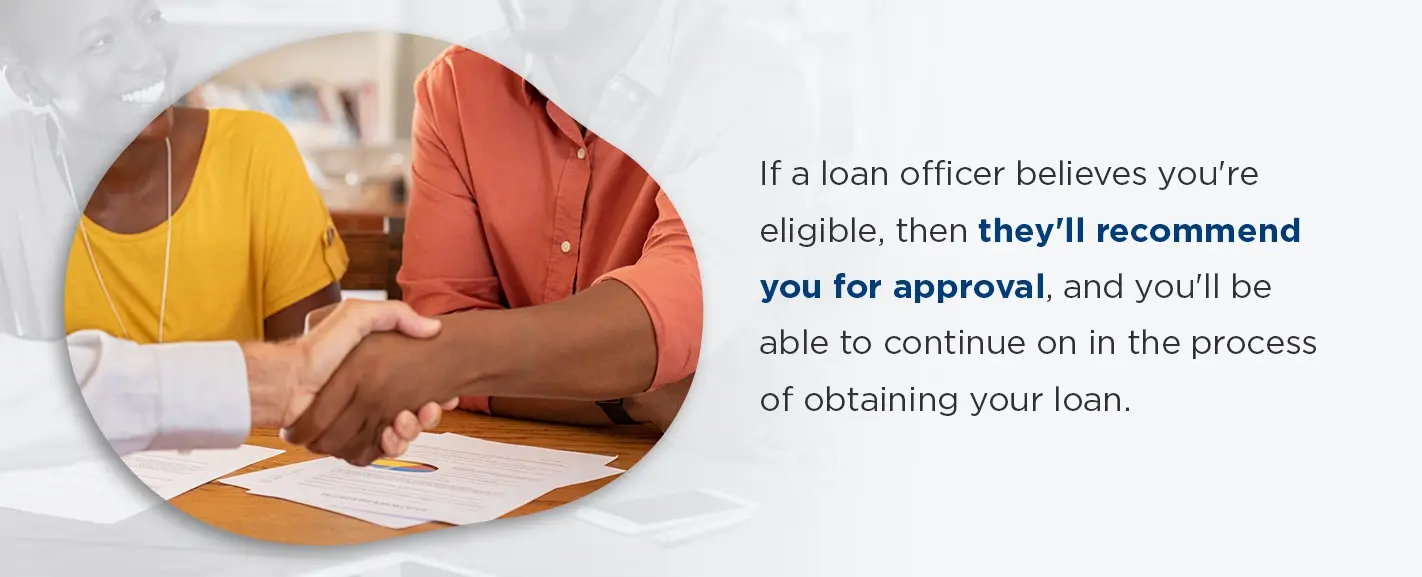 If you're looking to borrow a loan, a loan officer decides if you're eligible to proceed to underwriting. A loan officer will meet with you and evaluate your creditworthiness. If a loan officer believes you're eligible, then they'll recommend you for approval, and you'll be able to continue on in the process of obtaining your loan.
2. What Loan Officers Know
Loan officers must be able to work with consumers and small business owners, and they must have extensive knowledge about the industry. Loan officers should know the rules and regulations of the banking industry, what lending products are available and what documentation is required for consumers to obtain a loan.
3. Why Loan Officers Are Better for Borrowers
Many would-be borrowers may find themselves facing discrimination when it comes to algorithms that work in place of a loan officer. If you can meet with or speak to a loan officer, you can make your case for loan approval to a human being rather than a machine. In short, working with a loan officer tends to get you better results than going through a bank or lender that automates the process with computer algorithms.
4. How Much a Loan Officer Costs
Some loan officers are paid via commissions. Mortgage loans tend to result in the largest commissions because of the size and workload associated with the loan, but commissions are often a negotiable prepaid charge. With all a loan officer can do for you, they tend to be well worth the cost.
The Role of a Loan Officer
While every loan officer is required to be licensed, part of the allure of this job is that the role tends to pay well without requiring a professional degree. It isn't a job for everyone, though.
1. Duties of a Loan Officer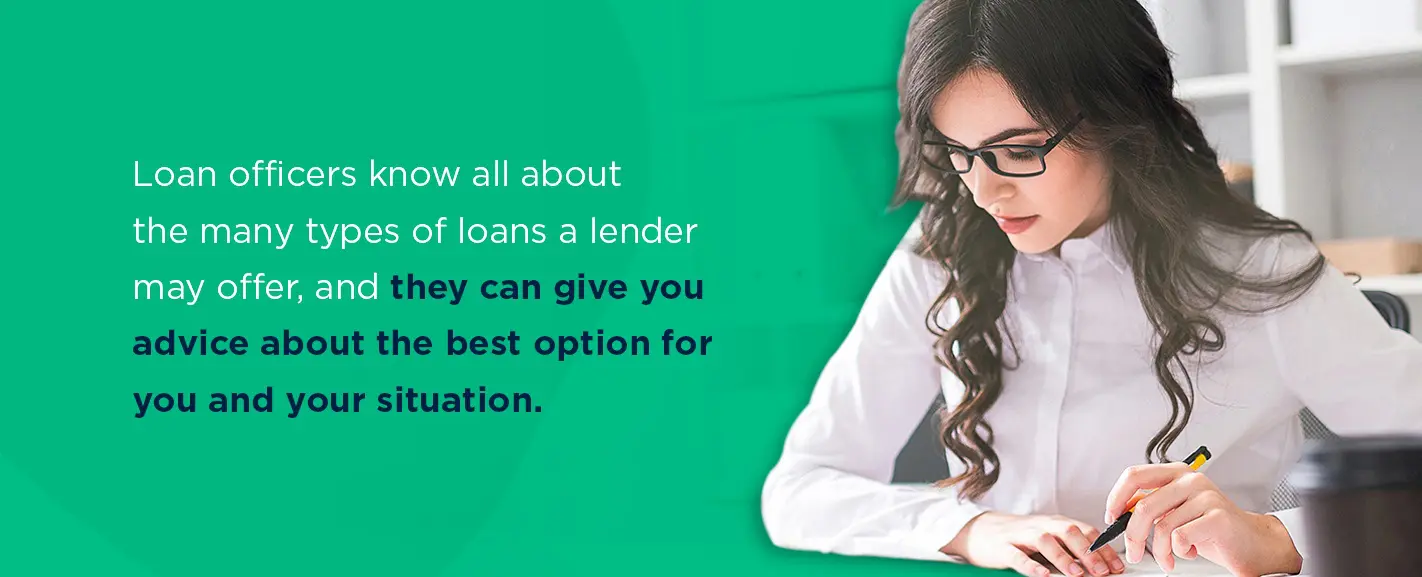 The duties of a loan officer include visiting loan applicants and completing lots of paperwork, especially for mortgages. Loan officers also possess comprehensive knowledge about the industry and excellent customer service skills. A loan officer is licensed with the necessary federal and state authorities and adheres to the regulations of the lending process. A loan officer will bring their expertise to the table when they work with you.
Loan officers know all about the many types of loans a lender may offer, and they can give you advice about the best option for you and your situation.
Discuss your needs with your loan officer. They can help direct you toward the best loan type for your situation, whether that's a conventional loan or a jumbo loan. They can even help with reverse mortgages and construction loans.
2. The Role of a Loan Officer in the Screening Process
Your loan officer is your direct contact when you're applying for a loan. They will research and review your financial history and assess whether you qualify for a mortgage. You won't have to worry about regularly contacting all the people involved in the mortgage loan process, such as the underwriter, real estate agent, settlement attorney and others, because your loan officer will be the point of contact for all of the involved parties. This will alleviate you of the stress of trying to keep track of all the various representatives and their duties.
Because the process of a loan transaction can be a complex and costly one, many consumers prefer to work with a human being rather than a computer. This is why banks may have several branches — they want to serve the potential borrowers in various areas who want to meet face-to-face with a loan officer.
Meeting with a loan officer is your opportunity to prove your creditworthiness. You can take this chance to explain anything that may have a negative impact on your creditworthiness, such as:
A missed payment on your credit card
Gaps in employment
Drops in your credit score
Loan officer responsibilities also include answering a would-be borrower's questions, so use this opportunity to ask your questions.
A loan officer will screen you to determine if you qualify for underwriting. They'll factor in your annual salary, credit score, debt-to-income ratio and total debt amount, but the numbers aren't the only important factors in your ability to qualify for a mortgage. If you can make a connection with a loan officer and explain the circumstances of your situation to a human being, you may have a better chance of successfully obtaining a loan.
3. The Role of a Loan Officer in the Loan Application Process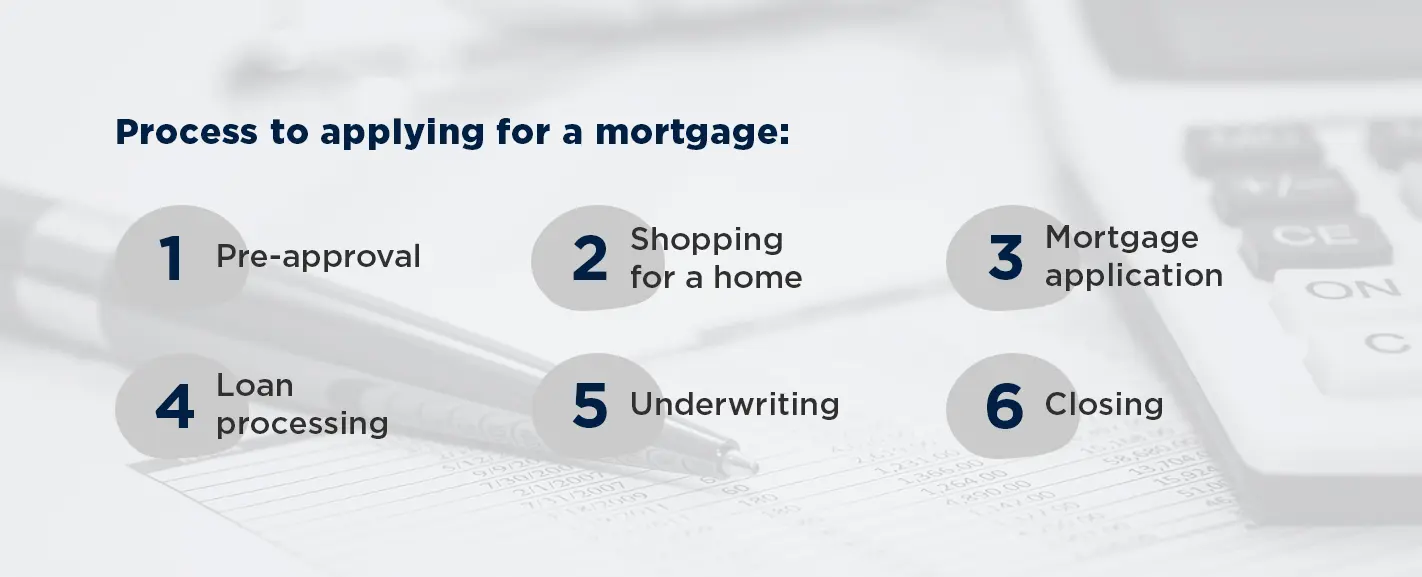 The mortgage application process can feel overwhelming, especially for the first-time homebuyer. But when you work with the right loan officer, the process is actually pretty simple. When it comes to applying for a mortgage, the process can be broken down into six phases:
Pre-approval: This is the phase in which you find a loan officer and get pre-approved.
Shopping for a home: This is the phase you've been looking forward to — shopping for your dream home.
Mortgage application: A lender reviews you application during this phase and provides you with a loan estimate.
Loan processing: During this phase, loan processors will verify everything on your application.
Underwriting: In this phase, the underwriter determines whether you're a good loan candidate for the lender.
Closing: During this phase, you'll sign all the final documents and pay for closing costs.
What is your loan officer's role during these phases? If your loan officer approves you after the screening process, they will help prepare your application. During the loan processing phase, your loan officer will contact you with any questions the loan processors may have about your application. Your loan officer will then pass the application on to the underwriter, who will assess your creditworthiness. If the underwriter approves your loan, your loan officer will then collect and prepare the appropriate loan closing documents.
The amount of work this entails for the loan officer depends on what type of loan you're applying for. Usually, a secured loan will require more documentation than an unsecured loan. Mortgage loans, in particular, are known for requiring a large amount of paperwork because of the several mortgage regulations at the federal, state and local levels.
A good loan officer can be a key player in ensuring that your loan application process goes smoothly.
How to Choose a Loan Officer
Home buying can initially feel like an overwhelming, stressful process, but the right loan officer can pave the way for a smooth loan application process. So how do you choose the right loan officer for you?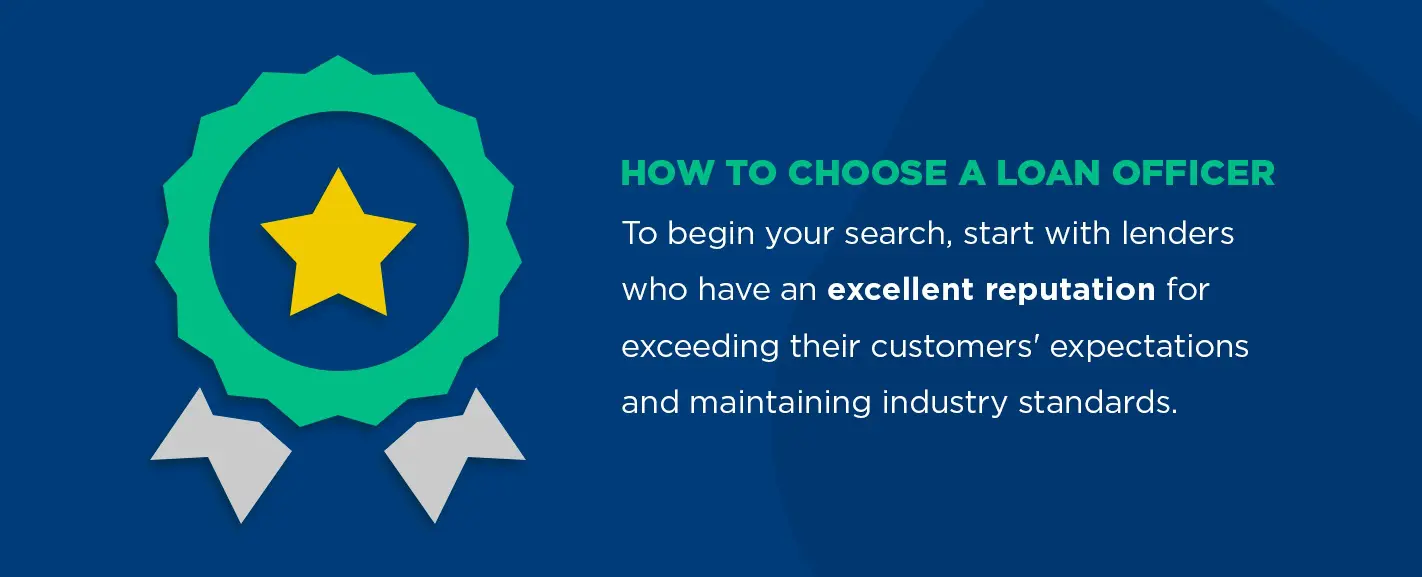 To begin your search, start with lenders who have an excellent reputation for exceeding their customers' expectations and maintaining industry standards. Once you've chosen a lender, you can then begin to narrow down your search by interviewing loan officers you may want to work with.
First, you'll want to consider location when choosing a loan officer. A lender may offer branches across the nation, so you'll want to find a branch that's closest to you. We have several loan officers you can work with at Assurance Financial. You can use your zip code to search for loan officers near you.
When you have your search narrowed down to a few choices, you can ask helpful questions that can lead you to choose the right loan officer for you. The following are a few questions you may want to address in a discussion with a loan officer:
1. Do You Offer First-Time Homebuyer Loan Programs?
Does this lender offer first-time homebuyer loan programs? If so, find out what programs they offer and if you qualify for any of them. Learn what might be a good fit for your situation.
Loan programs offered to you may include FHA loans, USDA Rural loans and VA loans.
FHA loan: An FHA loan is backed by the Federal Housing Administration and is intended for borrowers who wish to finance a home with a small down payment but still obtain a low interest rate. Depending on your credit score, you may be able to put down as little as 3.5% on your home.
USDA Rural Development loan: A USDA Rural loan is backed by the U.S. Department of Agriculture and is intended for lower-income earners who wish to purchase a property in a qualifying rural or suburban area. You'll need a higher credit score than for an FHA loan, but you also may be able to obtain a USDA loan with no down payment.
VA loan: A VA loan is backed by the U.S. Department of Veterans Affairs and is offered to eligible military members, veterans and surviving spouses. You can typically obtain a loan at a competitive interest rate, and you aren't required to provide a down payment.
Ask a loan officer whether they offer any of these programs and what your options are.
2. Do You Offer Assistance Programs for Down Payments?
Some lenders may offer down payment assistance programs and closing cost assistance programs. If approved for an assistance program, you may be able to move into your new home more quickly, select a 30-year loan at a fixed rate or get discounted private mortgage insurance.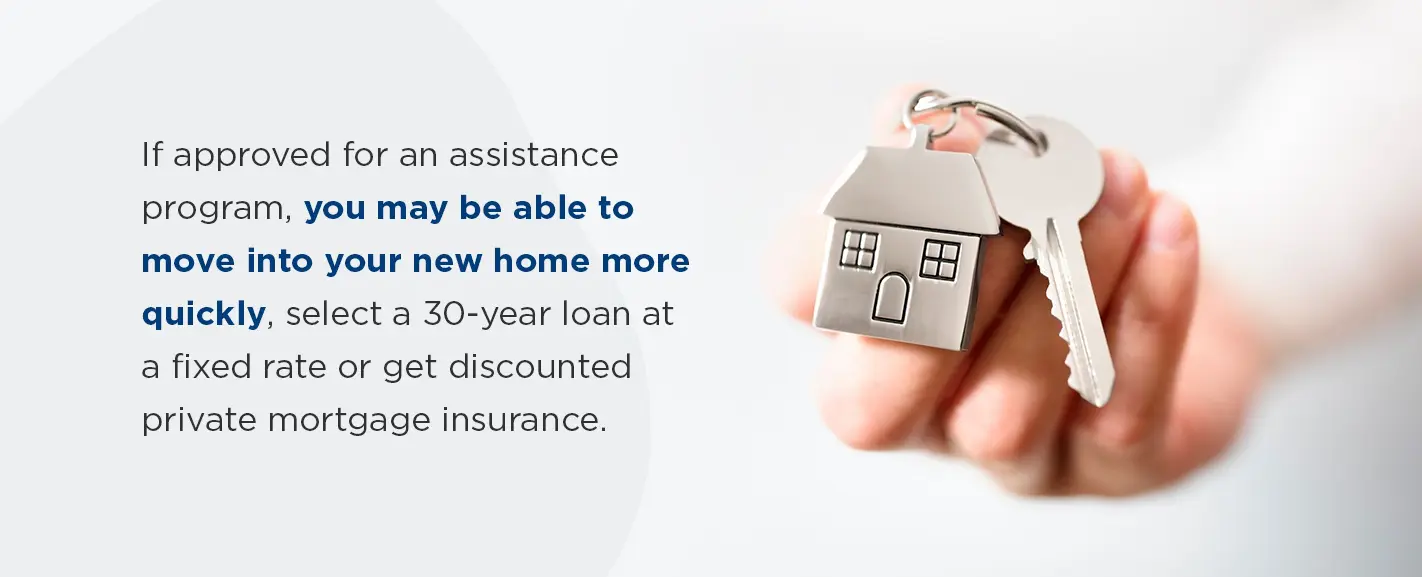 Down payment assistance programs usually come in the form of:
Loans to be repaid alongside your mortgage
Loans to be repaid when you sell, move or refinance
Grants that you don't have to repay
Down payment assistance programs can be a particularly helpful option for first-time homebuyers who have little savings but don't want to delay moving into their dream home until they save a 20% down payment. Since saving enough for a down payment can take years for many would-be borrowers, these assistance programs can make a big difference in your ability to obtain a mortgage for your dream home.
3. What Is the Best Type of Mortgage for Me?
Make sure to provide the loan officer with plenty of details about your situation and answer the questions they ask you. They may recommend certain loans for you, so ask for those options to be put in writing. This will help you learn about each type of loan and its strengths.
Ask about details you may not completely understand. If a number seems high or surprising, ask the loan officer to explain.
4. What Is the Cost Estimate for the Loans You Recommend?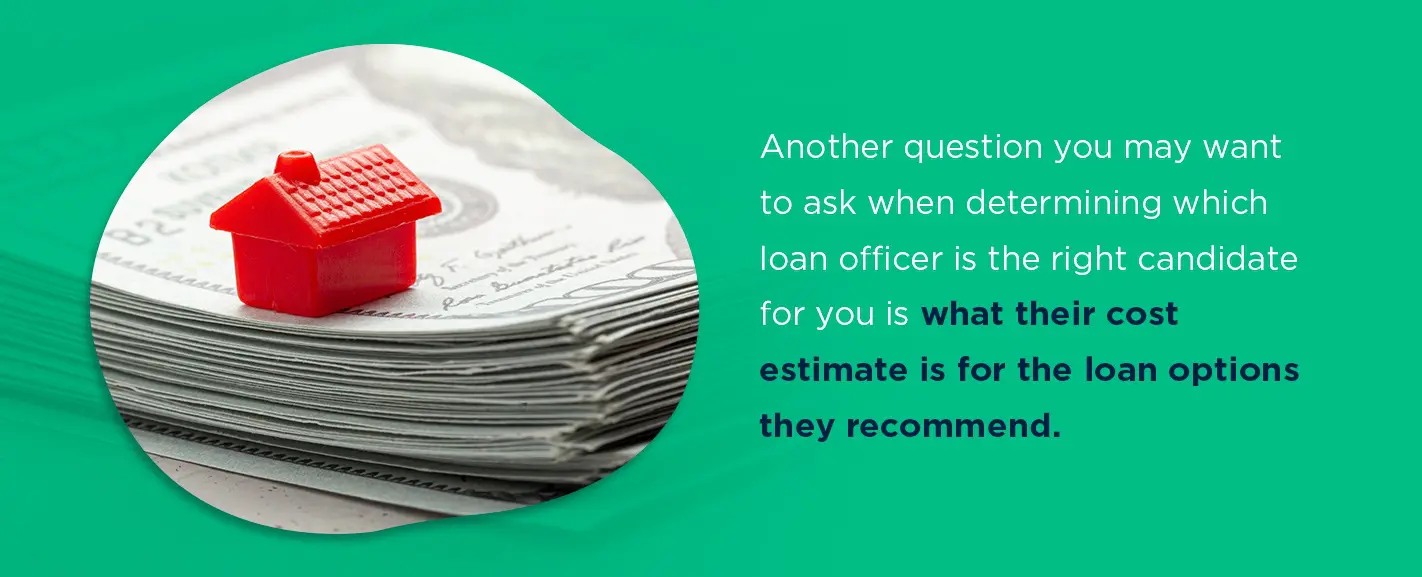 Another question you may want to ask when determining which loan officer is the right candidate for you is what their cost estimate is for the loan options they recommend. A loan estimate gives you a breakdown of all the costs associated with a loan, including closing costs.
Though the estimates will be based on current interest rates that can change, they can still give you an idea of what you can expect in terms of the cost of the loan. Request these estimates all on the same day so they can be fair, comparable estimates.
Ask questions like these during the interview with a loan officer. The answers a loan officer provides and their willingness to answer your questions will indicate to you whether you want to move forward with your professional relationship with this loan officer.
The Qualities of a Good Loan Officer
A good loan officer will possess certain qualities. What can you expect a good loan officer to be like? What will they do for you? The following are some of the qualities you can expect in a good loan officer:
1. Bring Expertise to Your Loan Process
Among a loan officer's skills is expertise in the industry. Loan officers are licensed with the federal and state authorities, and they adhere to the regulations of lending money. Because regulations are so strict, loan officers must be highly knowledgeable about the lending process and the banking industry.
The loan process, especially for mortgages, requires a lot of paperwork. While completing the necessary paperwork, you'll likely have several questions. A loan officer can offer their expertise to answer your questions and help you properly fill out the paperwork. Issues with the paperwork can delay the process of applying for a mortgage, so having a lender to guide you can help prevent delays.
When you work with a professional who has comprehensive knowledge about the work they're doing for you, you'll know you're in good hands and making informed decisions about your loan.
2. Tailor Loans to Your Personal and Financial Situation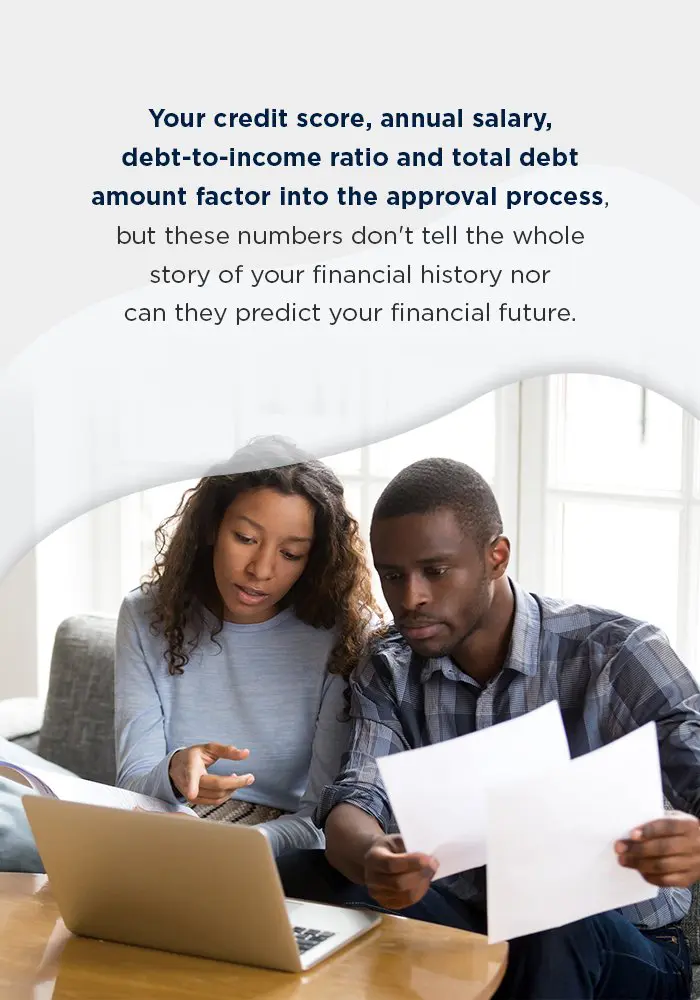 Because the success of many loan applications boils down to numbers, loan officers can be the difference between you being approved or denied in the screening process. Your credit score, annual salary, debt-to-income ratio and total debt amount factor into the approval process, but these numbers don't tell the whole story of your financial history nor can they predict your financial future.
Loan officers can go beyond these numbers to tailor a mortgage solution to your specific personal and financial situation. A mortgage is one of the most significant financial decisions a person makes, and the terms of your mortgage can have an effect on your financial stability and happiness for many years to come.
3. Possess Superior Customer Service Skills
One of the most important qualities for a loan officer to possess is superior customer service skills. Good loan officers strive to exceed customer expectations, provide advice and suggestions specific to a borrower's needs and to be accessible and responsive to the borrower and everyone else involved in the process.
A good loan officer aims to understand a borrower's needs so they can not only meet but exceed each client's expectations. A loan officer should also be easy to contact, and they should keep an open line of communication with you. This will allow them to assist you through every step of the loan application process.
4. Provide Suggestions for Improving Qualifications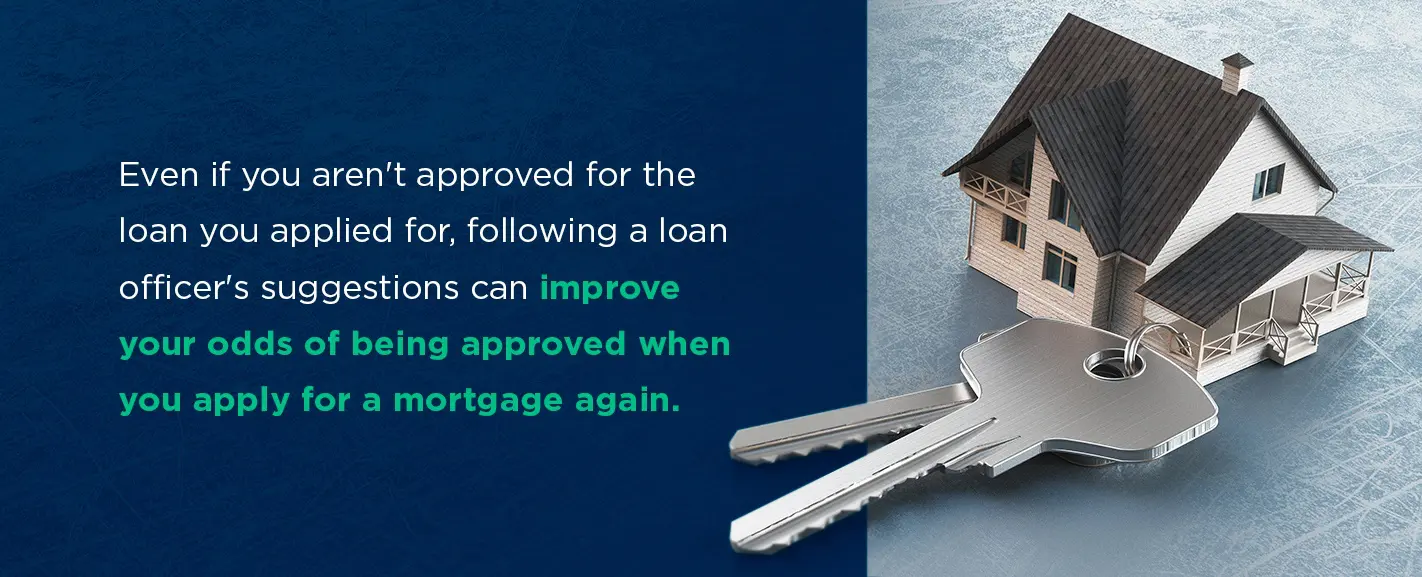 Though a loan officer can't make any issues in your credit history disappear, they can offer suggestions for how you can improve your credit and other qualifications for loan approval. Advice a loan officer gives you could potentially be the difference between getting approved or denied for a loan.
Even if you aren't approved for the loan you applied for, following a loan officer's suggestions can improve your odds of being approved when you apply for a mortgage again. A loan officer knows the ins and outs of loans and what makes an applicant get approved or denied, so take their suggestions seriously and implement them to increase your odds of getting approved for a loan.
5. Communicates Well With Involved Parties
While a loan officer will advise you, crunch numbers and streamline your application process, their job involves a lot more than paperwork. A good loan officer will also communicate well with the other involved parties, such as the underwriter. They'll act as your representative and stay in contact with everyone involved so you don't have to.
As such, you may want a loan officer who understands and connects with you. They should understand the needs and personalities of you and your family. If your loan officer understands what you're looking for, they can better help you find the best lending solutions.
Find a Loan Officer at Assurance Financial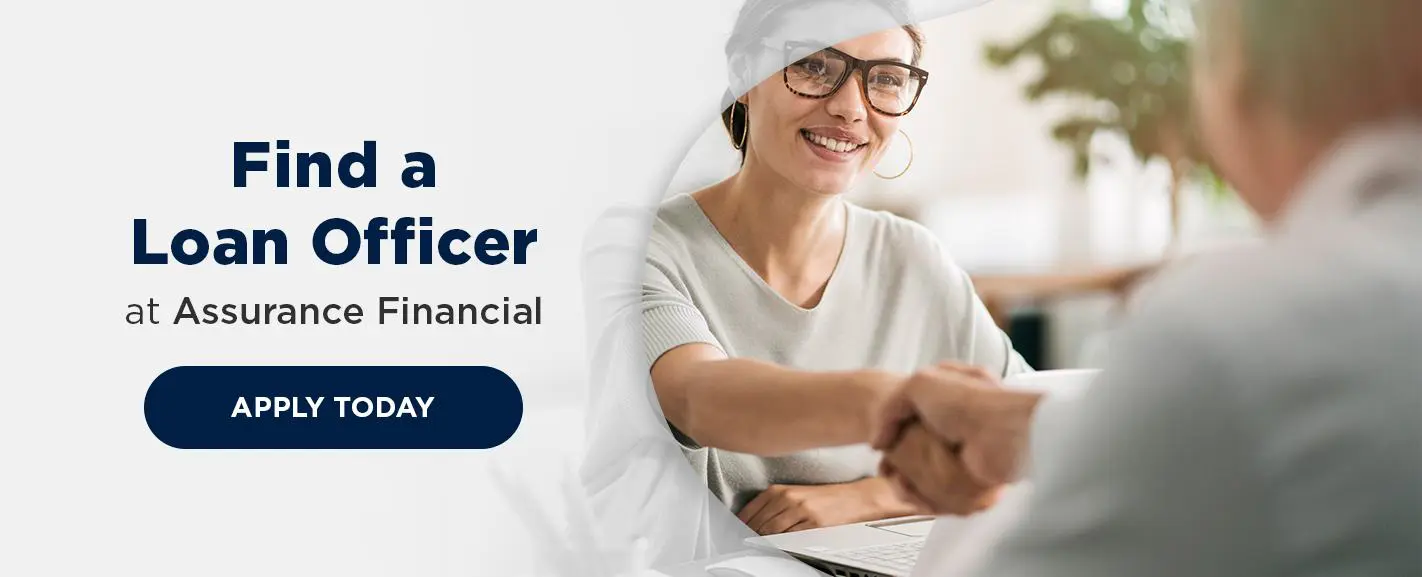 At Assurance Financial, we have over 120 mortgage loan officers who work with our clients to find the best lending solutions. We service a loan from beginning to end, saving our borrowers time and making the entire process more convenient with the highest quality digital tools available. We're an independent, full-service lender and we enable our borrowers to purchase their dream homes, whether it's their first home, a vacation home or an investment property.
We bring integrity and honesty to our work and strive to do what's best for our customers. We're licensed in 39 states and housed in 20 locations. Find the perfect loan officer with Assurance Financial and get pre-qualified before you begin the search for your dream home. Apply for a loan in under 15 minutes with our digital loan assistant, Abby, today!